Crude Chewed Up by Another False Breakout…
The stock market is grinding up the bulls every single time it gets within spitting distance of its highs.
And tumbling stocks aren't the only culprits that are chewing up portfolios…
A handful of nasty false breakouts and breakdowns are creating a treacherous environment for traders and investors alike. Just when you think you have something figured out, the market throws a wrench in your gears.
You don't have to search very far to find the effects of these whipsaw moves. Just look at gold futures over the past 24 hours. After launching to two-year highs above $1,318 Thursday morning, gold started to slip. It's lost more than $25 since noon yesterday—and now it's back below $1,300 once again.
Oil's another example of whipsaw market action taking its toll. Earlier last week, we told you the oil bears were losing their bite. Oil prices quickly jumped above $50 a barrel last week for the first time in nearly a year. U.S. stockpiles were down and China demand came in stronger than anticipated. Both of these factors helped push oil over the hump. Crude even managed to top $51.
But these gains were short lived. As it turns out, the oil bears were just taking a quick nap…
"Oil prices fell for a sixth straight day on Thursday, striking the longest bearish run since early 2016, as U.S. crude stocks fell less than expected and concerns over Britain's future in the EU weighed," CNBC reports.
I'm not sure what the Brexit vote has to do with crude. Will Britain stop using oil if it decides to break from the EU? No chance…
Still, market jitters continue to wreck havoc on what appear to be the strongest breakouts.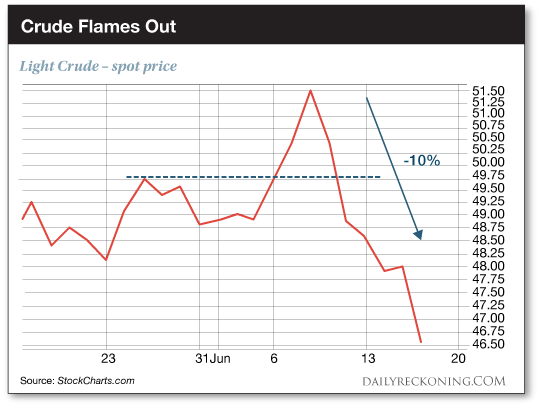 Crude only had a few hours to savor life above $51. That's when everything started to fall apart. Despite a strong breakout, oil couldn't even hold a fraction of its gains. Since its break to 11-month highs, oil has crashed more than 10%.
This bearish action is rattling throughout the entire energy sector. Keep in mind that oil services stocks kicked off last week with an insanely strong move right out of the gate. The VanEck Vectors Oil Services ETF jumped 10% on strong volume to new 2016 highs.
But after going from laggard to leader in just 48 hours, the oil services sector fell flat on its face. In fact, the entire energy sector is getting smacked around this week. The Energy Select Sector SPDR (NYSE:XLE) is fighting to stay above its 50-day moving average for the first time since oil began its comeback move in early March…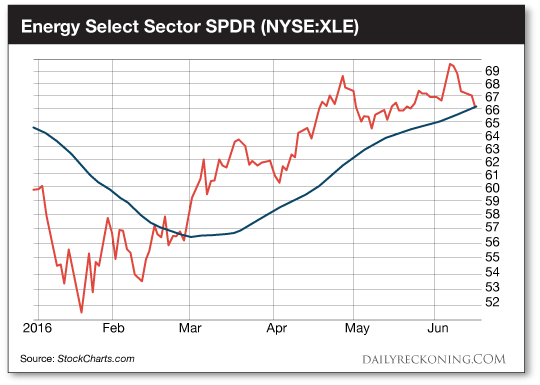 The 50-day moving average will be a critical test for the energy sector. We saw a nice little bounce yesterday afternoon to keep hope alive. But this sector will need some positive follow-through for anything to stick…
Along with oil, stocks are a hot mess once again. After a brutal start to the year and an improbable run off its lows, the S&P 500 is once again getting knocked farther from its all-time highs. It doesn't matter if you've bet big on breakouts or breakdowns this year. If you didn't take the money and run, you're right back where you started—or worse.
For now, we're combating these painful whipsaw moves by keeping our short-term trading positions to a minimum. The worst thing we can do is force trades that just aren't there. It's best to simply cut our losses as quickly as possible and wait for more favorable market conditions.
Don't let the market grind your portfolio to a pulp…
Sincerely,
Greg Guenthner
for The Daily Reckoning
P.S. Make money in a falling market — sign up for my Rude Awakening e-letter, for FREE, right here. Stop missing out on the next big trend. Click here now to sign up for FREE.