These Tech Stocks are Ready to Lead the Market Higher. Before Buying, Read This…
Punch drunk speculators gave world markets a shot in the arm to start the week, gobbling up anything in sight as the mainstream media declared that Britain probably won't vote to leave the rest of Europe holding the bag…
European stocks exploded out of the gates on Monday. The Euro Stoxx 50 jumped 3.5%, pulling the entire continent out of a four-week nosedive. Meanwhile, a morning jolt to U.S. stocks left the major averages higher by 1% or more.
But this week's not all about kneejerk Brexit reactions from the emotion-fueled investing class. Despite the fact that the major averages couldn't hold onto those morning gains, there are some very interesting trades setting up today…
For the better part of the past year, investors have smashed one market-leading sector after another into the pavement. The corrective chop has been two steps forward two steps back for most stocks since last summer's swoon.
The industry we're about to reveal today is no exception to this rule. These stocks have desperately tried to pick up the pieces ever since a harrowing 25% crash that began in June 2015.
But now they're ripping back to life. And it's shaping up to be one sweet comeback trade that could help you snag fast double-digit gains…
I'm talking about semiconductors. You might know these as the little chips that make your phone, tablet, and laptop work. Now they have a new job: generating big gains when you add them to your portfolio.
Investors couldn't sell these names fast enough last summer. Semiconductors began badly lagging the broad market as soon as the second quarter kicked into gear. That was a bearish sign for stocks. Why? Semiconductors have matured into an important economic barometer. And one year ago, the start of the big "semi slide" was the canary in the coalmine for the broad market's big leg lower that began just two months later.
After the semiconductor crash, these stocks stumbled along with major averages as they continued along their range-bound chop fest.
But this year, semiconductors are quickly coming back to life.
The VanEck Vectors Semiconductor ETF (NYSE:SMH) has fought off its lows and broken out to new year-to-date highs. After posting higher lows in May, semiconductors look ready to rip back toward their pre-correction highs. A quick retest of the breakout zone near $56 is starting to look like the perfect springboard move to higher prices.
Check it out: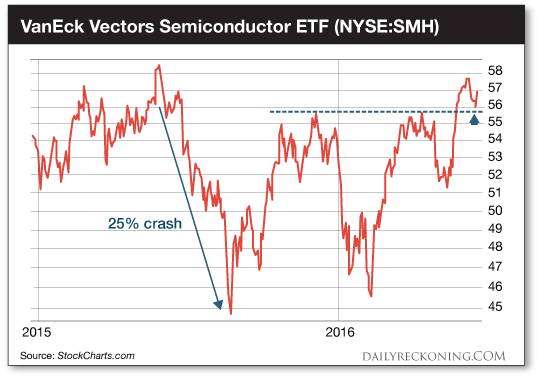 Not only are semis higher—they're starting to outperform the major averages.
After skipping hand-in-hand for most of the year, semiconductors are ready to leave the S&P 500 in the dust. As of yesterday afternoon, the S&P is up 2.25% on the year. But over the past few weeks, semiconductors have sprinted ahead of the major averages. The industry is now up more than 7% year-to-date: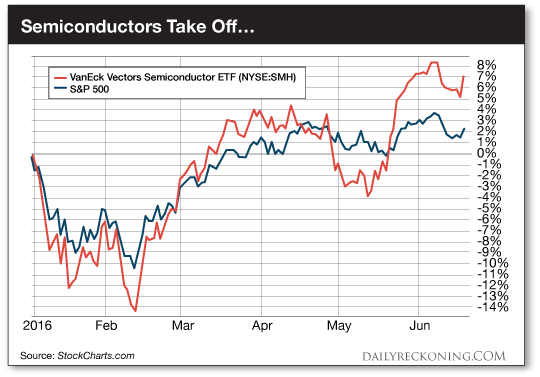 Semiconductors were some of the first stocks to reverse course and break down 12 months months ago. Now, it looks like they could be one of the groups that has the potential to lead the market higher out of this correction.
Don't get left behind…
Sincerely,
Greg Guenthner
for The Daily Reckoning
P.S. Make money in every falling market — sign up for my Rude Awakening e-letter, for FREE, right here. Stop missing out on the next big trend. Click here now to sign up for FREE.