Brexit Broke the Stock Market — But One Sector Remains a "Buy"
Traders are flying their crazy flags as Brexit voting begins today.
The stock market has turned into a rush hour traffic jam this week, complete with rubberneckers clogging up the works every time a new poll comes out indicating that Britain might vote to leave the European Union.
Yesterday's morning melt-up was interrupted by another one of these stupid polls. A couple of news outlets reporting on a possible Brexit win is all it takes to torpedo any rally in this environment…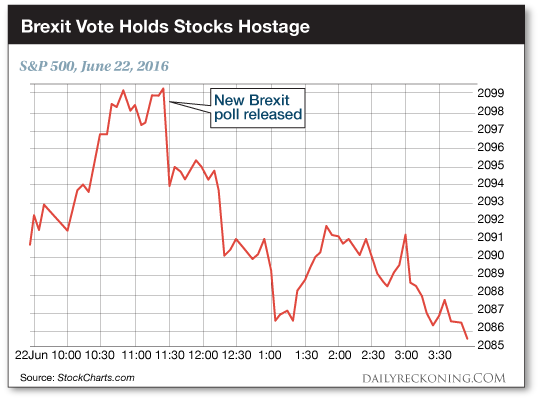 Adding to the foolishness, we're now getting all kinds of alarming warnings from analysts about just how much damage the Brexit results could cause tomorrow…
"Many analysts have predicted double-digit percentage moves for U.K. and EU equities in case of an exit," CNBC reports, "while a significant relief rally is anticipated in case of a remain vote."
The insanity continues early this morning as S&P futures jump higher by about 1% on reports that pollsters are more confident that "remain" will win out. Oil's also more than 1% higher on the news.
Of course, we can't say for sure if these moves will stick. I'm not sure why the British haven't figured out how to accurately poll their voters, but I have a feeling there will be plenty of conflicting reports over the next 24 hours that will yank the markets around.
Our best course of action during this noise is to let the policy nerds have their fun. We'll just have to do our best to tune out the insanity and hope that the market gives us some direction—whatever the outcome of this ridiculous vote might hold.
Luckily, one unlikely group of stocks fought higher yesterday amid the market's whipsaw action.
I'm talking about biotechs.
These stocks have been a confusing bunch since the sector bottomed out in February. We've seen two false start rallies since April that have completely fallen apart—and a couple of false breakdowns, too.
In early June, we were treated to some exasperating action from the iShares Nasdaq Biotech ETF. A multiple sclerosis therapy from industry giant Biogen (NASDAQ:BIIB) flunked its study goals, which was apparently enough bad news to drag down the entire sector and kill its two-week rally off its lows.
During the market correction, we've seen firsthand what happens when investors shun risk and flee to big, "safe" stocks. Biotechs and other speculative names got crushed. It makes sense. These are the stocks you'd normally knock down a few pegs when the going gets tough. That's why it was surprising to see these stocks take the lead on Wednesday as the major averages tanked…
These sickly stocks are finally showing some signs of life—and could be putting in another choppy bottom…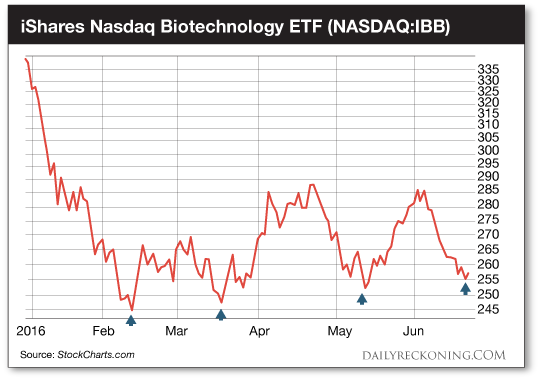 Yesterday's reversal could be the start of another bottom-bouncing biotech rally—and a chance for you to ignore the Brexit noise and focus on a potentially powerful new trade…
Sincerely,
Greg Guenthner
for The Daily Reckoning
P.S. Cut through the whipsaw action — sign up for my Rude Awakening e-letter, for FREE, right here. Stop missing out on the next big trend. Click here now to sign up for FREE.