Here's Your Complete Brexit Trading Guide…
After taking the weekend to mull things over, European investors continue to sell everything in sight post-Brexit vote.
Led lower by bank stocks, European shares picked up the selling right where they left off on Friday. RBS and Barclays shares were briefly halted in London as they dropped 10%, according to Business Insider. Sterling also resumed its historic slide. The pound fell below Friday's 31-year low earlier this morning.
That's making the selloff we're seeing here in the U.S. look positively ordinary by comparison…
On Friday, the Dow Jones Industrial Average coughed up more than 600 points to finish lower by nearly 3.5%. It looks like we'll see more of the same as we begin the new trading week. Dow futures are down more than 100 points early this morning. Gold is up $11, oil is slipping and the dollar index is hitting 3-month highs.
But today you're going to learn three trading strategies that'll help you steer your trades toward safe harbor to ride out this storm. More on this in just a minute.
First, we need to take a quick assessment of the market's key levels…
After Friday's tumble, the S&P 500 is quickly approaching its 200-day moving average.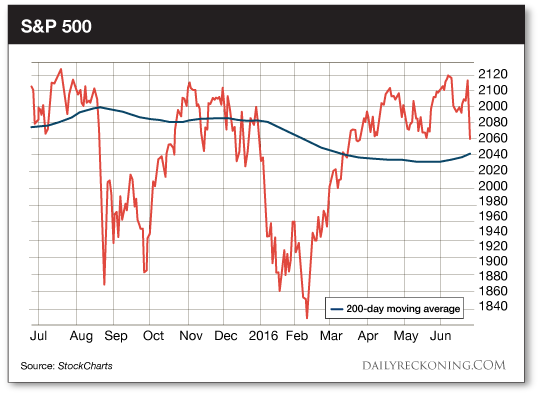 Remember, choppy trading is standard when the major averages are stuck below their 200-day moving averages. So you can expect plenty of seesaw action moving forward if we see a material fall below these levels. As of right now, futures are indicating that we'll probably see a break below the long-term moving average today.
Remember, we don't own a crystal ball. We still don't know if these lows are going to hold or if stocks will continue to sell off as the week progresses. Heck, we might even see a rally. We have to be prepared for just about anything.
That's means we're going to stick to our game plan as this trading week unfolds. Here are the three main strategies we'll rely on—no matter what the market throws our way:
Smaller position sizing. If it makes you feel more comfortable, place "half trades" (risking half of what your normally would). This technique is a great way to stay involved with the markets without having to endure too much pain from the choppy action. If the market gives us an opportunity to test the waters this week, don't feel as if you have to go "all in" on a trade…
Offbeat trades. We've been scouring some of the less traveled paths along the market's borders recently. This technique has paid off this year with some key commodity snapback trading opportunities that most folks have completely ignored. We'll continue to root around the edges of the market for new opportunities that have the best chance to survive a selloff…
Ignore predictions. As always, anyone who tells you they know exactly how everything is gonna play out is full of you-know-what. Stick to what matters most: your next trade setup.
Countless mainstream analysts and economists are going to be tripping all over themselves trying to predict what will happen next as Britain stumbles toward splitting with the European Union. But no one has any idea how it will all play out. All we know right now is investors are using the Brexit vote as an excuse to sell.
You simply must be more judicious with your trades in this type of market environment. There's no way around it…
Sincerely,
Greg Guenthner
for The Daily Reckoning
P.S. Make money in a falling market — sign up for my Rude Awakening e-letter, for FREE, right here. Stop missing out on the next big trend. Click here now to sign up for FREE.