The World's Ignoring the Biggest Breakout of the Year. Here's How it Could Net You 40% Gains…
Brexit is devouring the financial press like a fat guy at an all-you-can-eat fish fry.
Check out this screenshot I grabbed from a popular financial news site yesterday:
For the record, that's nine Brexit-related headlines, one about Benghazi, and one on gold (the gold story was bullish—so we can't complain too much about that one). I think it's safe to say that we could all use a Brexit break.
While every investor on the planet remains trapped in Brexit's trance, the market continues to pump out new signals for anyone willing to listen. Despite what you may have heard, the entire world didn't crash during the Brexit stampede. In fact, some assets actually went up.
Today, the market's flashing another strong buy signal in the face of political turmoil. One of the most powerful comeback trends in the world is breaking out again, giving you another opportunity to bank gains of up to 40% by 2017—no matter how Britain's hasty exit from the European Union plays out…
I'm talking about natural gas. Natty is laughing in Brexit's face. Even as crude lurched below $50 as world markets tumbled a few days back, natural gas marched to new 2016 highs.
While light crude is down about 1.5% during the month of June, natural gas has surged more than 25%…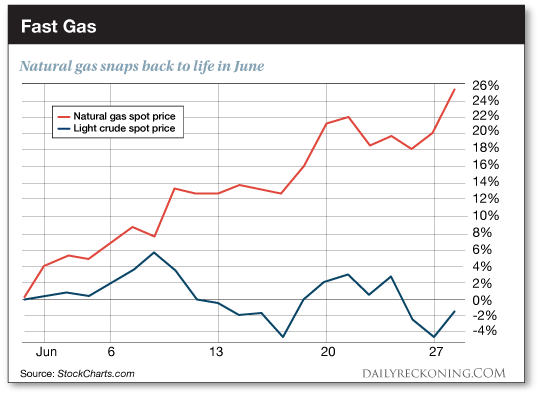 That's one heck of a rally. And most folks weren't even paying attention. After all, natty had been absolutely trounced since early 2014. By February, it had sunk to prices not seen since the late 1990s. No one wanted anything to do with it.
But we figured natural gas had probably found rock bottom.
Why?
Over the past 20 years, natty has staged powerful rallies every time its spot price has sunk below $2. Even back in 2012 (when natural gas was still blowing off steam from its 2008 peak) natty ripped off a yearlong rally that sent the spot price from $2 to $6.
Sure enough, natural gas caught a bid and rocketed back above $2 back in April. By early June, natty was off to the races. And after yesterday's 4% rally, we have a nice secondary breakout that should help propel this trade to new highs as we head into the second half of the year.
Here's an updated look at natty's big breakout: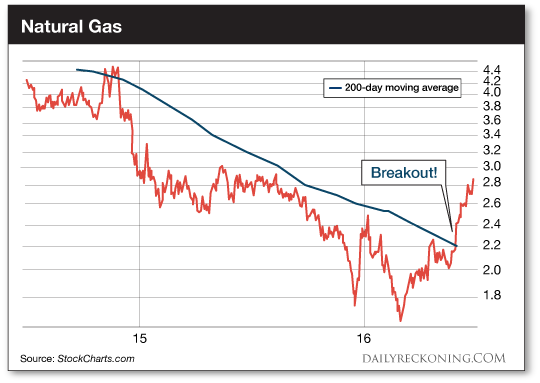 This exciting action is happening right under the nose of most investors. And they aren't even paying attention! We continue to see natural gas as a powerful contrarian trade—even as it approaches its 2015 highs. Everyone's too caught up in geopolitical "uncertainty" to take advantage of this screaming buy…
As I've said before, natty's comeback isn't going to be a smooth ride. But if you have the stomach for a bumpy ride higher, you could be handsomely rewarded by the end of the year. Natural gas isn't going to streak back to prices we saw back in 2005 or 2008 anytime soon. But an extended bounce off the extreme lows we've experienced this year could offer up some serious gains…
Sincerely,
Greg Guenthner
for The Daily Reckoning
P.S. Make money in a falling market — sign up for my Rude Awakening e-letter, for FREE, right here. Stop missing out on the next big trend. Click here now to sign up for FREE.