Here Comes $20 Silver!
After a painful downtrend, silver has embarked on an unstoppable rally.
Now that its 5-year bear market is officially over, silver's ready to make a run at $20 for the first time in nearly two years. That means double-digits gains are in the cards for one of your best performing silver mining trades.
I'll reveal all the details in just minute. But first, let's take a quick look at how precious metals have quickly become one of the best trades of the year…
Gold's hogged the precious metals spotlight since it started ripping higher in February—and deservedly so. After all, gold is one of the best performing assets of 2016. It's up nearly 25% year-to-date. To put that move in perspective, the mighty S&P 500 is just above breakeven on the year.
But silver hasn't earned much ink from the financial press…
Sure, silver kept pace with gold for the first six weeks of the year. But in mid-February gold started to outshine its less lustrous cousin. At the time, gold and other metals were making the most dramatic moves. Earlier this year, we also had the opportunity to book gains on aluminum producers and miners as other precious metals surged.
Meanwhile, silver consolidated.
Silver didn't jump to new highs until mid-April (that's when we first hopped onboard for a longer-term trade). After another sharp pullback in May, silver is back in action. This time, it's even sprinting ahead of gold…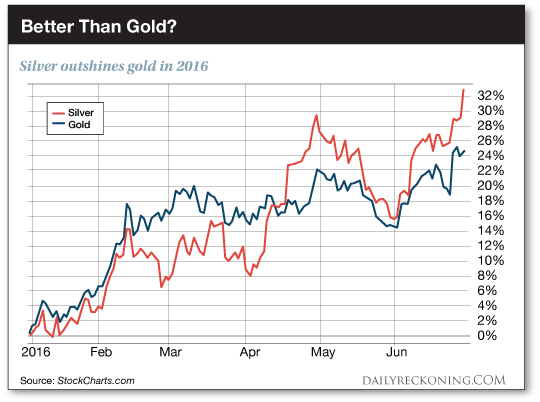 Silver's breaking out and not looking back. While gold is up 25% this year, silver's 2016 gains have now topped 32%. After yesterday's 3% move higher, silver is on a fast track to $20. Silver doesn't give a damn about Brexit or the monster back-and-forth moves the major averages have posted this week. This is one of the cleanest breakouts on the market right now…
Of course, this week's breakout also gives you another chance to jump into a hot silver miner trade.
You're already up more than 20% on our favorite silver play, Silver Wheaton Corp. (NYSE:SLW). This week's fresh breakout gives you a chance to add to your position—or pull the trigger on a fresh trade if you missed our initial report back in April.
I know it might seem crazy to grab shares of a stock that's already delivered gains of more than 20% in just a couple of months. But this week's breakout to new 2016 highs is an ideal scenario for an explosive short-term trade. Silver is looking to build on its gains this morning. And the newfound momentum could easily push mining shares higher into next week and beyond.
Hop on this trade today and ride the next wave of the rally. $20 silver is in sight…
Sincerely,
Greg Guenthner
for The Daily Reckoning
P.S. Make money in a falling market — sign up for my Rude Awakening e-letter, for FREE, right here. Stop missing out on the next big trend. Click here now to sign up for FREE.