Ghosts of 2008: 3 Charts to Watch as World Markets Crumble
Trading rules can make you rich.
"It's starting to feel like 2008," London money manager John Anderson tells Bloomberg News. "Government bond yields are telling you something very nasty is about to happen."
Spooky. Are the ghosts of 2008 rattling their chains?
Just one week after investors began drunkenly buying everything in sight, Brexit fears are shaking world markets once again.
Hung-over speculators have dropped their bottles and are now desperately punching the "sell" button as the bad news continues to roll in…
The Dow Jones Industrial Average shed more than 100 points to start the week. This morning, futures are off another hundred points as Asian and European markets continue to slide even further into the red.
And what about those pesky bonds?
"Yields on 10-year U.S. government paper fell to an all-time low of 1.367% on Tuesday and continued to drop on Wednesday to 1.350%," MarketWatch reports. "In Japan, the yield on 20-year government bonds turned negative for the first time, in another sign of investors fleeing to safe havens."
It gets worse…
Banks are coming under renewed pressure, sparking talk of another potential Lehman moment in the works. Bad debt at Italian banks was this week's first boogeyman to come storming out of the closet:
"Italy's banking crisis could spread to the rest of Europe and rules limiting state aid to lenders should be reconsidered," Bloomberg reports.
Just how bad is it for the banks right now?
"Switzerland's Credit Suisse Group and German lenders Deutsche Bank and Commerzbank were heading to their lowest share-price closes on record," MarketWatch reports.
Behold this long-term Deutsche Bank chart in all its terrifying glory…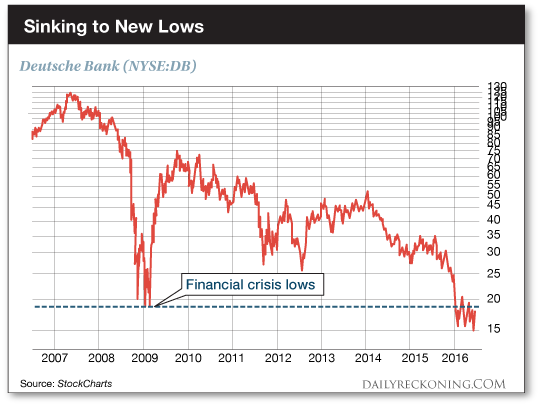 That's not a good look.
Not to be outdone, oil's comeback rally is beginning to unravel as well. Crude dropped nearly 5% yesterday. This morning, oil is creeping closer to $46. This breakdown could signal the end of oil's ferocious rally that began all the way back in February—the same rally that helped spur stocks higher off their 2016 lows…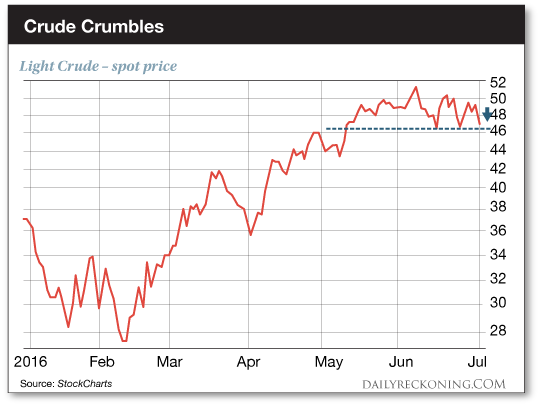 As world markets continue to take a dive, precious metals are soaring.
Gold is posting its third straight day of gains. The yellow metal is hitting $1,375 this morning—a two-year high. After punching through $1,300 (and area that acted as major resistance) back in June, gold hasn't looked back.
Turning to a longer-term chart, you can easily see how gold has broken free from the powerful downtrend that has been in place since late 2011…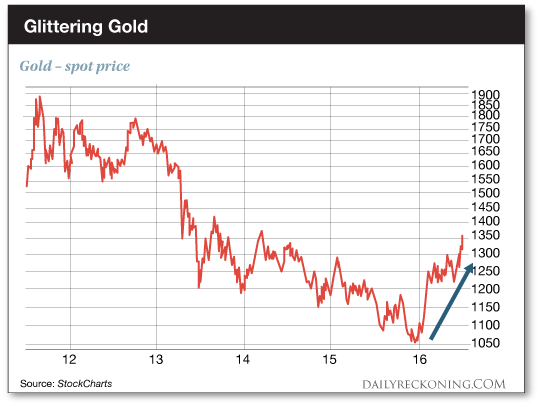 Late last week, we alerted you to another precious metal breakout. Silver's ready to make a run at $20 for the first time in nearly two years, we said.
Just two trading days later, our preliminary target has already been hit. Silver has rocketed from the low $18.30s on Thursday to more than $20 in early trade this morning. That's a 10% in less than five trading days. If investors continue to pile into safety trades, we could see this incredible run extend even further…
Sincerely,
Greg Guenthner
for The Daily Reckoning
P.S. Make money in a falling market — sign up for my Rude Awakening e-letter, for FREE, right here. Stop missing out on the next big trend. Click here now to sign up for FREE.