The Market's Next Big Trade is Sticking Out Like a Sore Thumb. Can You Spot it?
You don't need insider information, complicated algorithms, or a fancy math degree to find great trades.
In fact, some of the very best opportunities on the market stick out like a sore thumb. You just have to tune out the noise and open your eyes…
Today, I'm going to show you the market's next big "sore thumb" trade. It's a sector that most folks aren't watching. Elections, Brexit fallout and summer vacation are a big distraction for investors right now. Yet stocks like I'm about to show you are breaking out right under their noses. And no one's paying attention…
Check out this heat map of yesterday's market action:
I circled the green on the screen—but you probably would have noticed this glaring "sore thumb" even if I hadn't highlighted it. While the S&P 500 was up about a half a percent on the day, this group of stocks were outperforming by a mile. They lit up their section of the heat map like a Christmas tree…
So what sector are we talking about?
Healthcare.
Healthcare names—helped along by resurging biotech stocks—are posting a monster breakout this week. And Wednesday's stellar performance wasn't our first clue that a big move was afoot. While the major averages sagged Tuesday coming off the long weekend, the healthcare sector fought off losses to finish the day close to breakeven.
Once buyers stepped in yesterday, we were treated to new 2016 highs. Right now, healthcare stocks are fighting hard to become your new market leaders.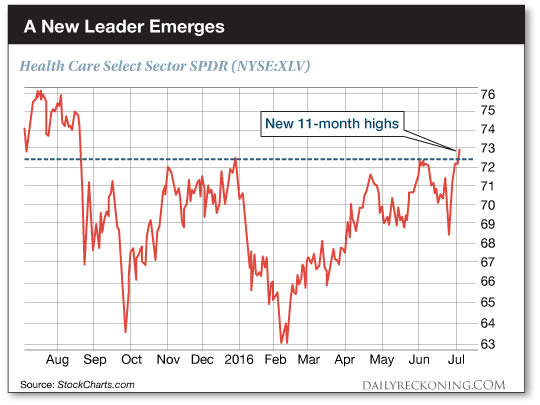 Strong buying eradicated the sharp Brexit selloff in the Health Care Select Sector SPDR (NYSE:XLV). Now the sector is back in the green, topping its late 2015 highs. Yesterday's move of more than 1% easily lapped the performance of the S&P 500.
You might remember that healthcare stocks had at one point acted as market leaders. Nothing could stop these stocks between 2012 and early 2015. But the sector never fully recovered from last summer's correction. The biotech flameout dragged the entire sector into the gutter where it languished for nearly a year.
Yesterday's breakout changes everything. If healthcare can regain the throne as a market-leading sector, we could have some very lucrative trades on our hands…
For some folks, it's all too easy to downplay the healthcare rally when you consider all that's happening in the world right now. You could even say that a quick round of selling could swallow the sector's measly 2% gains on the year.
That might be true. But it doesn't matter to us. The charts are giving us a clear shot at a trade. It would be stupid to ignore it…
Health care stocks are sticking out like a sore thumb right now. Just don't tell your local market pundit. He's too busy trying to explain how the heck the big bad Brexit is going to affect the world economy (spoiler alert: no one knows for sure).
Are you paying attention?
Sincerely,
Greg Guenthner
for The Daily Reckoning
P.S. Make money in a falling market — sign up for my Rude Awakening e-letter, for FREE, right here. Stop missing out on the next big trend. Click here now to sign up for FREE.