3 Big Predictions as Stocks Approach New Highs
If you blink you might miss it…
As investors pressed their bearish bets post-Brexit, the world abruptly stopped falling apart.
Stocks halted their skid and turned higher this month. After all the handwringing, the S&P 500 is within spitting distance of its all-time highs. Even the Dow Jones Industrial Average is less than 170 points from smashing through to uncharted territory.
Unless the market encounters a catastrophic failure, we can expect to see the major averages post new highs this week.
That might come as a shock to you. And if this market action has you a bit confused, you're in good company. With all of the bearish media coverage and the endless supply of downright terrible news these days, no one's bothered to mention that the major averages are taking aim at new records after more than a year of choppy action.
With that in mind, here are 3 big market moments you can expect as stocks turn higher this week…
1. A red-hot safety trade will finally begin to cool…
You know investors have gone safety crazy when they start treating utilities like growth stocks.
That's exactly what's happened this year. As investors have gobbled up anything and everything with a decent yield, they've bid up utilities to prices not seen in decades…
"Utilities, a sector traditionally viewed as a safety play in times of market turmoil, have risen 21.2% in the first half of 2016—the sector's best first-half performance in over 25 years," MarketWatch reports.
It gets crazier…
As Bespoke Investment Group notes, the utilities sector has a higher trailing 12-month price-to-earnings ratio than the technology sector.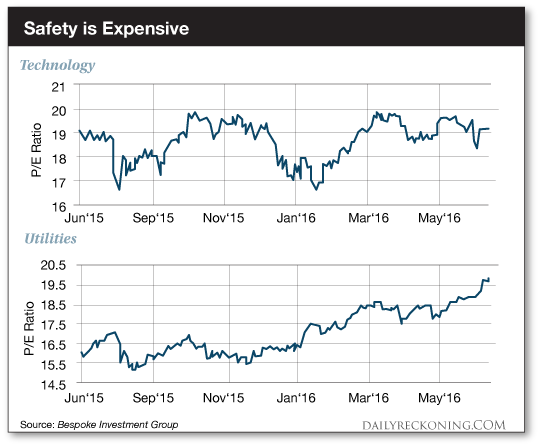 I doubt this trend will continue much longer if the major averages break out and continue to post new highs. In calmer waters, investors will want to pay growth-stock prices for actual growth stocks.
The utilities sector won't repeat it's historic first-half performance. Don't go chasing these stocks at these levels…
2. Beaten-down "speculative" stocks will catch a bid…
While utilities have been star performers in 2016, traditional "risk on" stocks have suffered.
Just look at small-caps…
You've seen firsthand what happens when investors shun risk and flee to big, "safe" stocks. Small-caps, biotechs and other speculative names get crushed…
It makes sense. These are the stocks you'd normally knock down a few pegs when the going gets tough. But these are also the first groups to put in a meaningful rally when the markets begin turning around.
We talked a lot about the market's broken stepchildren as the market launched off its lows earlier this year. The major averages had recovered after double-digit corrections. But those poor souls that had been mired in bear markets were quietly leading the way higher.
Now that the major averages are approaching new highs, we should see these stocks spring back to life.
Small-caps are sneaking back to the front of the pack after last week's rally. The Russell 2000 has jumped nearly 2.2% so far this month, compared to a 1.5% gain in the S&P 500.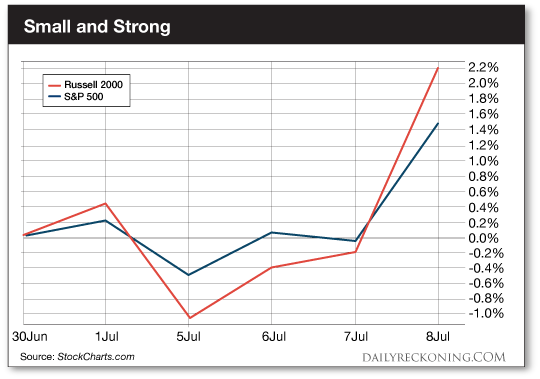 Unlike the S&P 500, small-caps have a lot more ground to make up before they even come close to tasting new highs. Look for speculators to help this group of stocks play catch-up as the major averages break out…
3. Precious metals will continue to shine…
Even as stocks have found a floor and moved higher, the big story this year has been the incredible performance we've seen from precious metals.
Some folks might think that gold and silver are cooked now that the market looks like its getting back on track.
But we think they're wrong. For starters, gold futures haven't missed a beat since the market's surprise post-Brexit surge. In fact, gold's risen 3.2% so far this month. That easily doubles the performance of the S&P 500…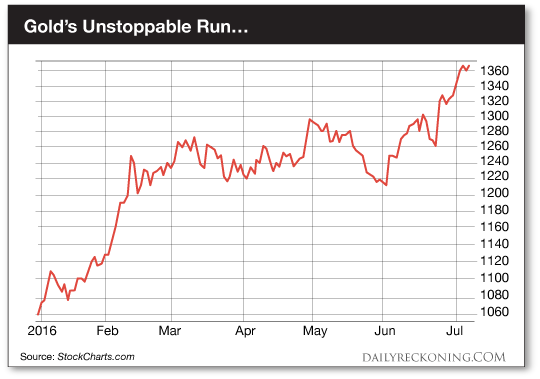 You'll hear the financial media talk about the relationship between certain sectors as if they're set in stone. They'll say the market can't up if oil doesn't go up. Or they'll tell you that gold can only rise during a crisis.
But in reality, market relationships are always evolving. And right now, conditions look ripe for gold and stocks to trend higher.
Yes, gold can go up hand in hand with the stock market. Don't let anyone tell you otherwise…
Sincerely,
Greg Guenthner
for The Daily Reckoning
P.S. Profit from the market's next uptick — sign up for my Rude Awakening e-letter, for FREE, right here. Stop missing out on the next big trend. Click here now to sign up for FREE.