Here's How to Trade New All-Time Highs…
Pop the champagne, baby! The bulls are back in town!
You thought the world was ending two weeks ago? Wrong! Yesterday, the S&P 500 posted a new all-time high for the first time in 13 months, the longest stretch without a new high outside an "official" bear market since 1985, Bloomberg says.
You should know by now that price leads the news. So it's no surprise that the financial media have abruptly canceled the world economy's funeral. The wake has been moved to a nightclub with an open bar. Everyone's invited to party until dawn and share whatever bullish data they can get their hands on…
The economy? Strong!
Earnings season? Due for a rebound!
All that talk about another financial meltdown? Just forget anyone mentioned it…
"This is extraordinary, if you believe in the linear connection between headline news and markets," Josh Brown writes at his Reformed Broker blog. "All the same old fears serve as the hideous tableau against which this new all-time high has been printed. But there's nothing new to say – stocks have been talking over the naysayers for almost 8 years…"
Fortunately, you can ignore all the hubbub. From a purely technical standpoint, the bull is back in action. That's all you need to know.
What does this mean?
For starters, overhead resistance has vanished. Remember how the S&P 500 would turn back every time it crossed 2,100 over the past several months? Each time these levels were rejected, this area became more important. And now that the S&P has crossed the threshold, we should expect a wild move higher—especially since most folks have been caught off guard…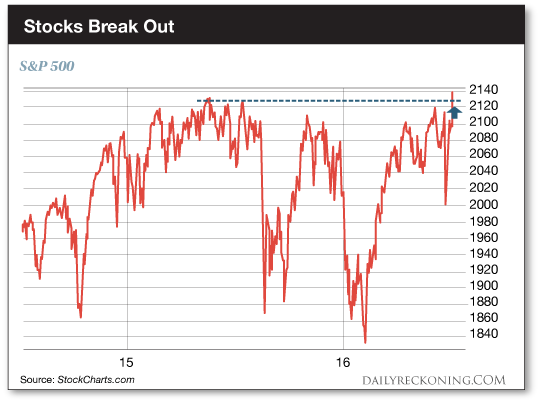 This also means we should have plenty of new breakouts on our hands over the next few weeks. For most of 2016, the market has forced us to be incredibly selective with our trading dollars. Dangerous whipsaw action threatened countless potential trades.
But now, we will have even more opportunities to book consistent, double-digit gains. Look no further than the market-leading stocks for proof…
Another milestone occurred yesterday that you probably didn't notice: Amazon's market cap topped Warren Buffett's Berkshire Hathaway. Amazon is also at new highs—and it's now one of the five largest companies in the world by market value, Bloomberg reports.
Today is also Prime Day. Amazon is offering special promotions all day for Prime members—and those who don't pay for Prime can sign up for a free trial.
"This will be the Seattle retailer's second Prime Day," Yahoo Finance reports. "Last year the company reported 34.4 million items sold, which translates to 398 items per second."
Of course, Amazon wasn't completely immune to the market turmoil we experienced earlier this year. The stock took a 30% hit to begin 2016. But it has rallied sharply since it bottomed out in February. While other retail names have struggled, the king of E-tail has staged an impressive comeback rally. Now that it's back on its highs, we can expect more gains in the coming weeks and months.
You're already up more than 25% on our Amazon trade that we initiated back in April. Now's the perfect time to add to this winning position. More gains are on the way…
Sincerely,
Greg Guenthner
for The Daily Reckoning
P.S. Make money as the markets rebound — sign up for my Rude Awakening e-letter, for FREE, right here. Stop missing out on the next big trend. Click here now to sign up for FREE.