You'll Never Guess Which Forgotten Metal is Outperforming Gold…
No one's watching the stock market right now…
Everyone's checked out for the summer. They're either hanging out at the beach or playing Pokemon Go.  Working stiffs aren't doing much better. They're tucked away in tiny cubicles, Googling Brexit facts while neglecting their actual jobs…
So what's the real reason no one's paying attention to the market melt-up?
Simple: Everyone cashed out months ago.
"Investors have yanked $64 billion from domestic equity funds this year through May, nearly double the withdrawal from the same period a year ago," The Wall Street Journal reports.
It looks like most folks missed the market's rally to new highs. And since they refused to pay attention to the major averages, I have no doubt they'll miss out on this next lucrative trade that's hiding in plain sight.
That's right—base metal bonanza is back! And these industrial metals are setting up to outperform even our red-hot gold trades.
Here's the scoop…
Earlier this year, analysts were concerned that prices were detaching from fundamentals as prices of industrial metals heated up in the East.
Turns out Chinese speculators were at it again. The same folks who were burned by Chinese stocks were throwing their money into the commodities market. They sent aluminum to 10-month highs back in April, while steel prices rose 20% in just four days.
That gave us the opportunity to book some of our fastest gains of the year as we hitched a ride on the base metals rocket ship. For several months we've noted that some of the best trading opportunities we've seen have popped up in commodities. And just like the stock market, it seems as if no one's paying attention to the commodity space despite numerous breakouts in copper, steel and aluminum this year.
Why? Most folks aren't interested in a commodity market that's produced nothing but losses over the past several years…
Now that the major averages are taking a breather, it's time for these forgotten industrial metals to shine once again.
"China's commodities market went ballistic on Tuesday, seemingly out of nowhere," Business Insider reports. "The spot price for benchmark 62% iron ore fines ripped 6.65% higher to $59.38 a tonne, according to Metal Bulletin, the largest one-day percentage increase since April 21. So far this year the price has surged 36.3%."
In case you aren't keeping track, iron ore's 36% gain this year easily tops gold's rise of more than 25%. Bet you didn't see that coming…
Iron ore isn't the only industrial metal ripping higher. Copper is quietly ripping to two-month highs this morning. If the move holds, Dr. Copper will have a nice higher low in place that could spark a massive run higher.
Check it out: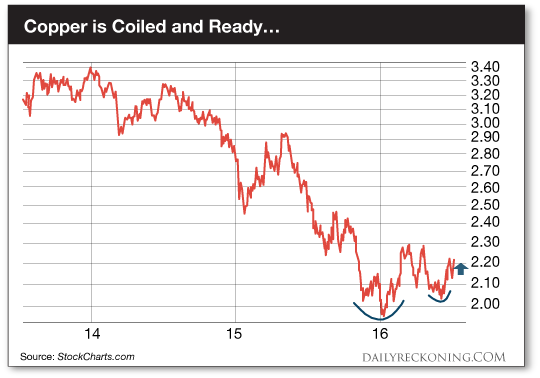 Copper has endured a painful downtrend for years. But if it can build a solid base here, we could be treated to explosive gains. Don't take your eyes off this one over the next few weeks.
The next leg of the base metals rally starts now. You won't want to miss it…
Sincerely,
Greg Guenthner
for The Daily Reckoning
P.S. Make money in ANY market — sign up for my Rude Awakening e-letter, for FREE, right here. Stop missing out on the next big trend. Click here now to sign up for FREE.