The Brightest Comeback of 2016 Starts Here…
Sometimes, all it takes for a group of stocks to blow up is some ill-timed news during a market correction.
That's exactly what happened to the solar industry earlier this year.
But solar's not all doom and gloom. In fact, we're beginning to see some signs of a comeback that could net you quick gains of 20% or more. More on this opportunity in just a minute.
Let me get you up to speed…
Solar stocks were humming along in January. While the major averages were tanking, stocks like First Solar Inc. (NASDAQ:FSLR) were quickly approaching 3-year highs.
But the party didn't last long.
Just a few weeks into the new year, a little solar company called SunEdison (NYSE:SUNE) crashed the party. SUNE was a hedge fund favorite in 2015. But it all came crashing down a few months ago…
A dustup between SUNE and solar panel installer Vivint Solar (NYSE:VSLR) got the ball rolling. A $2.2 billion deal where SunEdison agreed to acquire Vivint fell through and folks started questioning the company's financial health. VSLR tanked 20% on the news. And SunEdison was soon fighting for its life as shares dropped below $2.
SUNE declared bankruptcy just a few short weeks later. A massive $11 billion debt load effectively caused the collapse of the world's largest renewable energy firm. In less than one year, SunEdison went from one of the best investments in the space to a complete disaster…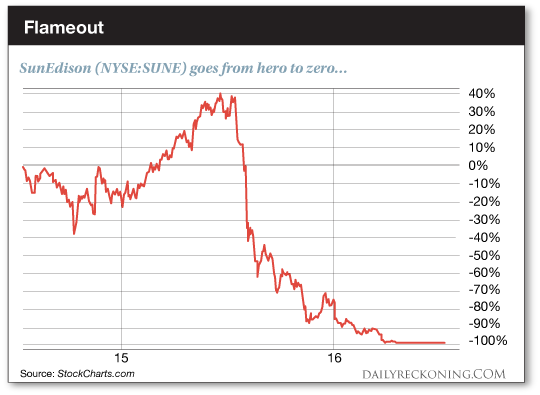 In the blink of an eye, SunEdison helped dismantle any hint of strength in solar stocks. During the SUNE debacle, you were better off owning just about anything else on the market.
But there's also the brighter side of the solar story.
"The U.S. solar industry installed a record 7.3 Gigawatts (GW) of solar photovoltaic in 2015, and that volume is poised to grow 119% in 2016, with installations projected to reach 16 GW," MarketWatch reports. "China added 7.1 GW of new solar capacity in the first quarter of 2016 alone."
That's a lot of solar panels…
No, solar power isn't going anywhere. The dark clouds are clearing—and the best companies in the solar sector are shaping up in a hurry.
Take SolarCity, for example. Earlier this year, the company won a contract from Whole Foods to retrofit up to 100 stores with rooftop solar. The solar systems are expected to make Whole Foods one of the top 25 U.S. solar customers, according to CNBC. Even with Elon Musk trying to orchestrate Tesla's bid to acquire his solar venture behind the scenes, the stock is carving out a nice bottom.
SolarCity isn't the only stock in the industry that's beginning to look interesting.
Industry stalwart First Solar Inc. (NASDAQ:FSLR) is currently down 27% year-to-date. But it also looks like its bottoming out and readying for a comeback move. It's not perfect. But if FSLR can find a little momentum here, it could easily jet back toward its 2016 highs.
Everyone pounded the solar "sell" button earlier this year. With a several constructive charts and some positive news events, there are plenty of tailwinds in place to get these stocks moving in the right direction once again.
Sincerely,
Greg Guenthner
for The Daily Reckoning
P.S. Make money in ANY market — sign up for my Rude Awakening e-letter, for FREE, right here. Stop missing out on the next big trend. Click here now to sign up for FREE.