Zombie Breakout! How Social Media Stocks are Coming Back from the Dead…
July has treated us to some scorching market comebacks.
The major averages have broken out to new all-time highs in the face of political and economic instability across the globe. Stocks screamed off their lows and punched through resistance, crushing any short seller standing in their way.
As more bricks piled on top of the wall of worry, we alerted you to powerful comeback trades in airlines, coal, solar and natural gas. The opportunities keep rollin' in…
Today, another beaten-down sector is flashing a buy signal. That gives you the chance to jump on another explosive snapback trade that could deliver speedy double-digit gains to your trading account.
This comeback story begins with the best social media stocks in the business: Facebook.
More than one month ago (before all the Brexit shenanigans hijacked the markets) we were unceremoniously stopped out of a Facebook trade.
Microsoft's outrageous $26.2 billion buyout of the business social network site LinkedIn had just sent shockwaves across the tech markets. Reactions across the industry were skeptical of the deal and what it meant for social media stocks. And while the rumor mill temporarily spiked the shares of almost every social media stock on the market, Facebook stock took a beating.
But it didn't last long…
Fast-forward to life after the post-Brexit melt-up and you'll see Facebook stock is close to breaking out once again. Even more impressive is the fact that the rest of the social media industry's stepchildren have clawed their way out of some grotesque downtrends.
Remember, many of these stocks have been nose-diving for months. While Facebook has remained (for the most part) an investor favorite, these stocks have been desperate for table scraps to help prop up their flagging share prices.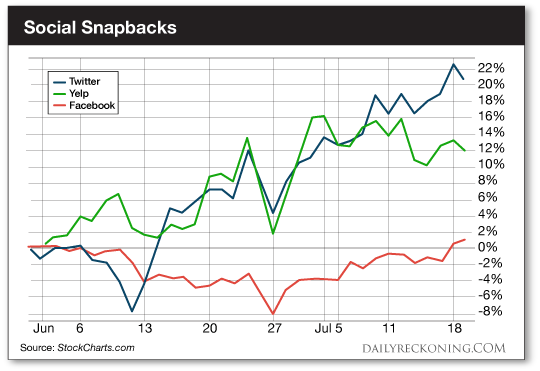 It's no secret that Twitter's business has been circling the drain while Facebook continues to build on its massive social media empire. But the charts are telling us Twitter shares may have temporarily bottomed out. Since June 1st, Twitter stock has outperformed its peers by a wide margin Shares are up more than 20%, while Facebook is up about 1% over the same timeframe. Even Yelp shares are up double-digits.
These comeback moves courtesy of our favorite zombie social media stocks show that investors are rotating into riskier stocks they shunned earlier this year. But Facebook remains hands down the best stock in the industry. Even when the market forced us to ditch our Facebook trade last month, I told you we could have a great opportunity to pick up shares once the dust settled.
And now that social media stocks and the Dow Jones US Internet Index are breaking out, we just might have our shot.
Check out this chart: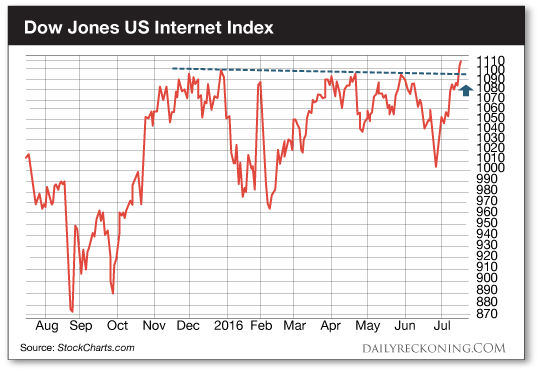 This week, internet stocks have finally treated traders to an upside breakout. As Tom Bowley from Stockcharts.com explains, this is a significant move higher. The Dow Jones US Internet Index had attempted to clear its old highs on 30 occasions since November 2015, Bowley explains. All of these previous attempts to clear the highs make this breakout move even more powerful.
Sincerely,
Greg Guenthner
for The Daily Reckoning
P.S. Make money in a falling market — sign up for my Rude Awakening e-letter, for FREE, right here. Stop missing out on the next big trend. Click here now to sign up for FREE.