Gluttons Win Again! How a "Junk Food Breakout" Will Fatten Your Wallet…
Do you think you could add some more cheese to your diet?
A few weeks ago, the Wall Street Journal reported that the cheese surplus in America has reached epic proportions. Farmers have goosed production so much that every person in the country would need to eat three extra pounds of cheese this year to get rid of the glut.
So could you do your part to help eat away at the surplus?
No?
I don't believe you…
I know you're packing a few extra pounds these days. I'd also wager you're looking forward to sinking your teeth into an extra-large brick of cheddar.
The stats don't lie. According to the latest numbers, more than three-quarters of American adults are overweight or obese. But I don't need to dig up statistics from the Centers for Disease Control to guess that you could probably stand to lose a few pounds. One look at the stock market tells me everything I need to know…
Greed always wins on Wall Street. But on Main Street, gluttony takes the gold. That's why junk food stocks are soaring. Pizza, burgers, and donuts—these stocks are breaking out right and left.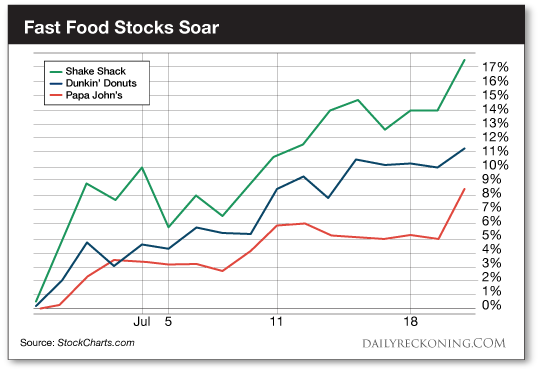 Since the Brexit bottom, trendy burger joint Shake Shack has seen its shares jump almost 18%. Dunkin' Donuts stock is up more than 11%. And Papa John's shares are up more than 8%.
Papa John's stock was lucky enough to catch an upgrade yesterday thanks to some curious reasoning from a Wall Street analyst. Customers are more likely to order in due to the numerous civil and political disruptions we've experienced this year, the analyst says. Or maybe we're just lazy…
This bull market in bad pizza is not a new phenomenon. In fact, we alerted you to the streaking pizza stocks last year—just as Dominos rolled out the latest in pizza ordering technology. Now, even the laziest glutton can order his favorite pizza by tweeting a pizza emoji directly to Dominos.
At the time, I noted that the emoji ordering system wasn't the stupidest thing I had ever read in my life. But it's close. Frankly, I'm not sure why anyone would want to eat Domino's at all—whether it's ordered thru emoji or the old-fashioned way.
But that can't stop the pizza bull. And you could be looking at big gains over the next several months if this trend continues.
Bottom line: Thanks to some constructive breakouts, these greasy stocks have a lot more room to run.
The fact is, folks are ordering in and eating out in record numbers. And these cheap fast food joints are a great way to play the trend.
So skip the delivery and the pizza emojis on you smart phone. Order up some of these hot shares instead…
Sincerely,
Greg Guenthner
for The Daily Reckoning
P.S. Make money in a falling market — sign up for my Rude Awakening e-letter, for FREE, right here. Stop missing out on the next big trend. Click here now to sign up for FREE.