The Greenback Fires a Warning Shot: Are Commodities in Trouble?
The U.S. dollar has fired a warning shot across the bow of the commodities market.
Anyone exposed to metals, miners, and oil plays needs to heed the dollar's threat. If the greenback continues to press higher, we can expect more short-term pain in the commodity space.
Let me set the scene for you…
For the first half of 2016, the U.S. Dollar Index drifted lower. But in early May is where things really get interesting. The buck tripped and fell flat on its face, tumbling below its 2015 lows. The dollar was quite literally teetering on the brink. It was threatening to give back most of its 2014-2015 rally.
But the big breakdown never happened. Instead, the dollar ripped higher. Last week, it staged a massive breakout that could snap the greenback out of a 16-month funk—and unleash hell on the commodities market.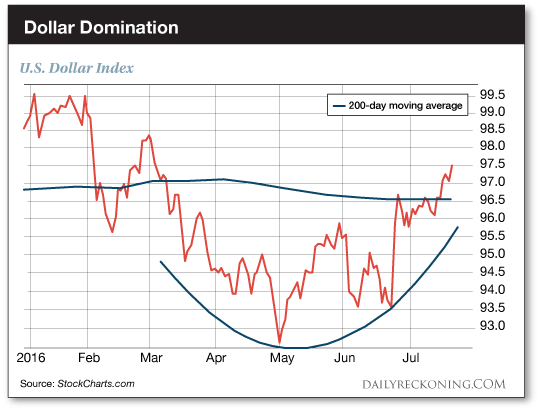 The dollar has reversed its fortunes and is now firmly above its 200-day moving average thanks to last week's breakout. Now, it's pushing toward its March highs.
Many commodities are reacting negatively to the dollar's renewed strength.
We've already seen the effects of a resurgent dollar on crude. Oil topped out at $51 in early June and slowly slipped lower ever since. It's now 14% off its highs and breaking below critical levels: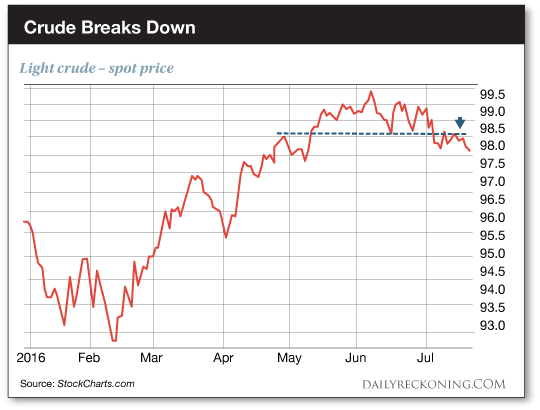 Crude's down another 1% early this morning. The selling pressure doesn't look like it's going to let up anytime soon. If oil settles in the red today, it will have closed lower five out of the past six trading days…
Of course, energy isn't the only group feeling the heat of a strong dollar. Gold and other precious metals are in a precarious spot this morning as they fight to remain above critical levels.
It's no secret that gold has dominated the market this year. Gold futures have trounced the major averages. The metal is up 25% year-to-date, compared to gains of a little more than 6% for the S&P 500.
Gold miners have showered traders with even bigger gains. The VanEck Vectors Gold Miners ETF (NYSE:GDX) has returned 110% so far this year. Not bad for a group of stocks that went nowhere but down for five straight years…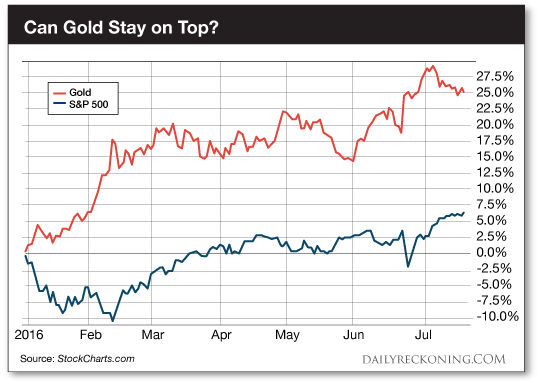 So far during this dollar rally, gold and other precious metals have held up much better than oil. Gold's only about 4% off its highs. But it's quickly nearing an important support zone. If gold is going to maintain even a fraction of the momentum from its recent breakout, it's going to need to stay above $1,290. That's the level you should watch closely…
Of course, all of this action is happening smack in the middle of central bank meetings. We have FOMC and the Bank of Japan potentially throwing wrenches in the gears this week. Both could utter a few magic words that could sharply extend the dollar's rally.
Keep a tight leash on your commodity plays this week. If the greenback continues to rip higher, we could see more pain throughout the sector…
Sincerely,
Greg Guenthner
for The Daily Reckoning
P.S. Crush the commodities rally — sign up for my Rude Awakening e-letter, for FREE, right here. Stop missing out on the next big trend. Click here now to sign up for FREE.