The Next Tech Boom: Here are Your New Market Leaders
Big buyout news hit Wall Street with a thud to start the trading week…
Verizon shelled out nearly $5 billion to purchase Yahoo after management gave up trying to figure out exactly what Yahoo's business is supposed to be. The fire sale price tag for the once-dominant web property comes in at a small fraction of its $125 billion market cap during its heyday.
If Yahoo shareholders had a time machine, they'd probably use it to go back to 2008 and beg the company brass to jump at Microsoft's $45 billion buyout offer. Instead, they're stuck watching Marissa Mayer sashay out the door with a briefcase full of cash—while they have virtually nothing to show for it.
Verizon's curious penchant for buying up dot-com relics like AOL (which it acquired last year) and Yahoo must mean the last of the internet boom stalwarts are left to fade quietly into the night, right?
Well, not exactly.
The dot-com darlings are riding high once again. A host of household name tech stocks are streaking higher and partying like it's 1999. As investors begin to sneak back into the market now that the major averages are back on their highs, tech stocks are becoming your new market leaders.
The Technology Sector SPDR (NYSE:XLK) broke out and posted new highs last week—and its strength isn't just thanks to new kids on the block like Facebook outperforming. In fact, many of the old school tech stocks that rivaled Yahoo back in the 90s are breaking out once again…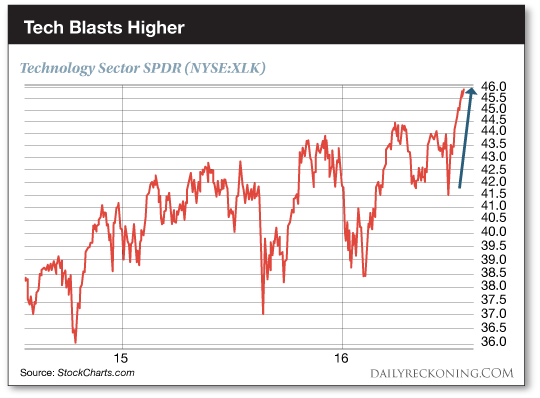 Software giant Microsoft (NASDAQ:MSFT) posted a new all-time closing high yesterday. Cisco Systems (NASDAQ:CSCO) finally cleared its 2007 highs and is trading at levels we haven't seen in 15 years. Then there's Advanced Micro Devices Inc. (NASDAQ:AMD). AMD gained nearly 15% yesterday after reporting its first revenue increase in 24 months. And while this stock is still nowhere near even its pre-financial crisis highs, the sharp move higher is breaking shares out of a five-year funk.
Remember, the Nasdaq Composite is the only major average that hasn't posted new highs this month—and it will have to clear its late 2015 highs before it can top its high water mark. These old school tech breakouts are the first step in doing just that…
You don't need a time machine to take advantage of these tech breakouts. With all of the bullish action popping up in the sector, you can jump on a new trade today without worrying about missed opportunities.
Sincerely,
Greg Guenthner
for The Daily Reckoning
P.S. Tackle the next major tech buyout — sign up for my Rude Awakening e-letter, for FREE, right here. Stop missing out on the next big trend. Click here now to sign up for FREE.