Here's the Spark that Will Ignite Our Big Breakout Predictions…
The odds of landing huge, profitable trades are swinging in your favor.
The chop is dead. Breakouts abound. The market is throwing off countless trades you can take advantage of right now…
As stocks rocketed off their Brexit lows, we offered up a few big predictions you could expect if the major averages successfully broke out to new highs (we'll get to these in just a minute)…
That was just three weeks ago. Right now, these predications are starting to come true as the market blasts higher.
How did we do it?
Is it the crystal ball we keep in our desk drawer?
Or maybe the market is just getting more predictable?
Nope.
I don't have a direct line to a stock market psychic. My crystal ball is at the shop for repairs. And the stock market's just as erratic as it ever was…
But investors' behavior is a little easier to pin down. As a prolonged period of choppy action draws to a close, the market-watching public is up to its old tricks once again. Stocks are hitting important inflection points. Buyers are overwhelming sellers. Simply put: following the emotional reactions of market participants gives us the edge we need to book consistent gains.
That's why you can take advantage of these fast-developing trends as speculators begin to crawl out of the woodwork. While the breakouts pile up, you can stay one step ahead and pocket short-term gains as the manic masses start to buy stocks. You just have to know where to look…
You can see the mania developing in some of the most speculative names on the market.
Ever hear of a company called SkyPeople Fruit Juice? It's a Chinese soft drink stock that jumped more than 700% this month (I'm not making this up). Take a look for yourself: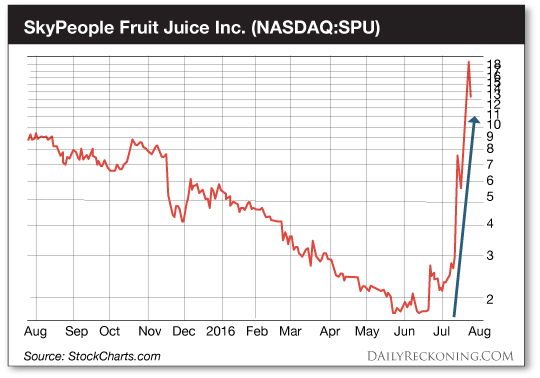 Did SkyPeople announce a massive expansion project? Was it bought out by Coca-Cola?
No and no…
What we have here is a case of market mania that's starting to spread to a completely forgotten speculative stock. SkyPeople had gone nowhere but down for five years. Once the last investor left the building in June, there was no one left to sell. That's how epic rallies are born.
One of our big predictions at the start of July was that beaten-down "speculative" stocks will catch a bid.
We talked a lot about the market's broken stepchildren as stocks launched off their lows earlier this year. The major averages had recovered after double-digit corrections.
Now that the major averages have found new highs, we should see plenty of these beaten down speculative stocks spring back to life.
Small-caps are already sneaking back to the front of the pack. The Russell 2000 is beating the pants off the S&P 500 so far this month…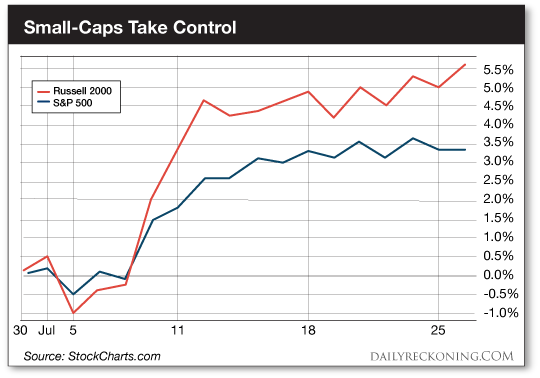 The Russell 2000 is up more than 5.6% in July, while the large-cap S&P 500 is up about 3.3%. After clinging to safety trades for more than a year, investors are signaling that they want to take risks again…
The market's abrupt move to new highs caught most folks off guard. With all of the bearish media coverage and the endless supply of downright terrible news these days, no one's bothered to mention that the major averages are taking aim at new records after more than a year of choppy action.
The speculative rallies we're witnessing are the sparks the market needs to launch to higher prices. Get ready for more big breakouts in the weeks ahead…
Sincerely,
Greg Guenthner
for The Daily Reckoning
P.S. Take advantage of these fast-developing trends — sign up for my Rude Awakening e-letter, for FREE, right here. Stop missing out on the next big trend. Click here now to sign up for FREE.