The Next Housing Boom Starts Here
The housing market has reached a critical tipping point.
Owning homebuilder stocks was dead money walking just a few months ago. Now these same names are poised to become some of the strongest stocks on the market. And if you ignore the bad press and jump a trade today, you have a great chance at owning one of the best performers of the second half of 2016.
You should know the drill by this point…
Everyone's stuck on the same old housing narrative the financial media have pounded into our heads for the better part of a decade. No one owns homes anymore… No one will ever buy a house again… Renting is back in vogue—and the only projects the homebuilders have left on the books are apartment complexes and other multi-family units.
This week, the media is treating us to even bleaker housing market stats…
"The U.S. homeownership rate fell to the lowest in more than 50 years as rising prices put buying out of reach for many renters," Bloomberg reports. "The share of Americans who own their homes was 62.9 percent in the second quarter, the lowest since 1965, according to a Census Bureau report Thursday. It was the second straight quarterly decrease, down from 63.5 percent in the previous three months."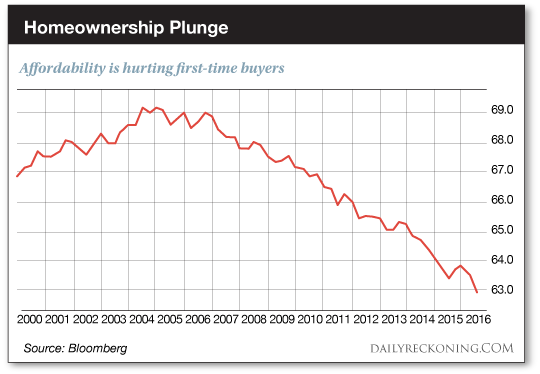 So it's true. No homeowners are left. Heck, no one can even afford to buy a house anymore!
But the charts are telling a much different story. Homebuilder stocks are in rally mode once again. And it's time to pay close attention.
These stocks fell off a cliff in late 2015. In fact, homebuilders were some of the first casualties of the January market swoon that pummeled the major averages by double-digits.
But the homebuilders didn't stay down for long. These mangled stocks rocketed off the February market bottom and haven't looked back. Since stocks bottomed out in February, the S&P Homebuilders ETF has risen more than 27%.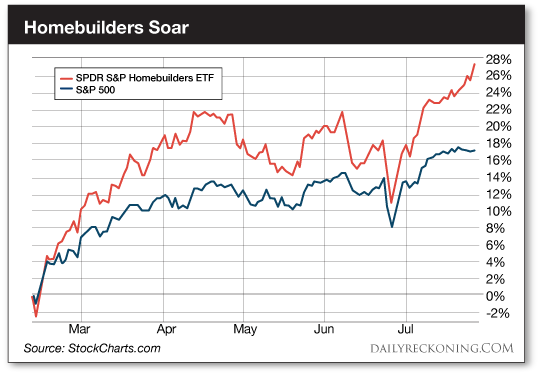 We're no strangers to the homebuilder trade. Last year, a deluge of data made it clear that the housing market had finally stabilized. Yes, there are outliers—like outrageously high prices in San Francisco. But for most of the nation, the housing market is reverting to something that resembles normalcy.
Remember, we're a full decade removed from the housing bubble. And after ten years of little to no substantial gains in homebuilder stocks, it's finally time for these puppies to get moving.
Right now, it's clear that there's a major breakout in the works for the once-underperforming homebuilders. And if we jump onboard now, we could be in for a heck of a ride.
Check out the iShares U.S. Home Construction ETF (NYSE:ITB). After enduring more than a year of sideways action, this ETF is breaking out and hitting post-financial crisis highs. Take a look for yourself: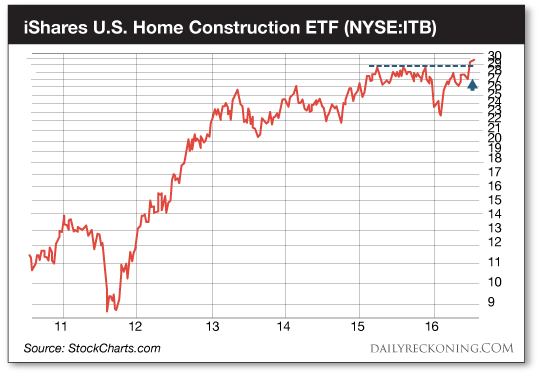 As the homebuilders make up for lost time, they'll begin to reward savvy investors. Lucky for us, price leads the news. And there are plenty of homebuilder breakouts to choose from.
Sincerely,
Greg Guenthner
for The Daily Reckoning
P.S. Cash in on the most overbought sectors on the market — sign up for my Rude Awakening e-letter, for FREE, right here. Stop missing out on the next big trend. Click here now to sign up for FREE.