The Oil Bull is Dead. Here's What Happens Next…
July was a month of epic market comebacks across the globe.
Then there's oil.
As the major averages dance with the bulls, oil finds itself in a new bear market. Crude slipped to its biggest monthly decline in a year, dropping 14% after briefly topping $50 a barrel. It's now more than 20% off its June highs after toppling another 3.7% to start the week.
Pick your narrative. No matter where you look, oil news is bleak. Bloomberg reports that fuel stockpiles are at their highest seasonal level in at least 20 years. Baker Hughes data shows drillers added to the number of active rigs for the fifth straight week— which should help add to the oil glut as we approach the end of summer.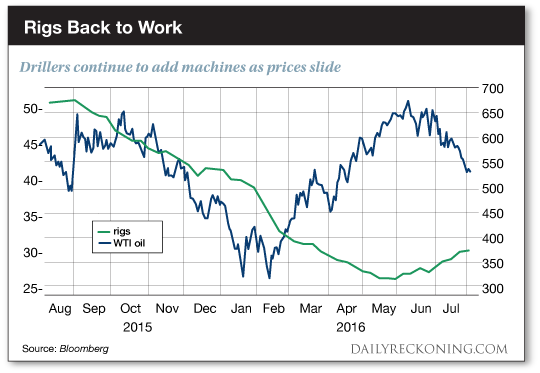 Weak demand isn't helping the situation. We're at the time of year where strong demand should help lower inventories. But it just isn't there…
"As the uncertainty of Brexit and Fed hawkishness worsen the macroeconomic picture, observers should say goodbye to prospects of industrial led demand growth," writes Barclays' Michael Cohen. "The hope for a clear rebalancing may have to wait a couple more months, since oil's drain is clogged in the meantime."
Sure, that sounds pretty bearish. But if there is a clog, then how the heck is crude's spot price running down the drain?
We warned you that crude's short-lived jaunt above $51 was a warning sign for the oil comeback all the way back on June 17th. Crude only had a few hours to savor life above $51 before everything started to fall apart. Despite a strong move higher, oil couldn't even hold a fraction of its gains. It's breakout to 11-month highs failed almost immediately.
The result was a double-digit drop in a matter of days…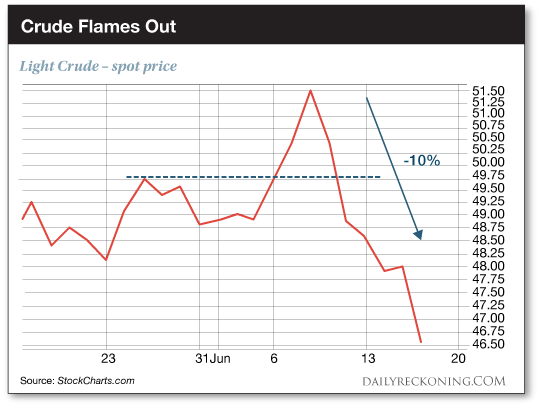 Now we know how the story ends. The failed breakout and subsequent breakdown officially signals the end of oil's ferocious rally that began all the way back in February—the same rally that helped spur stocks higher off their 2016 lows.
Of course, the bearish action in crude is starting to rattle throughout the entire energy sector.
The Energy Select Sector SPDR (NYSE:XLE) is starting to roll over, dropping by more than 3% on Monday. That puts it within spitting distance of its June lows—and well below its 50-day moving average. While the big oil companies took one on the chin yesterday, it was the independent oil & gas companies that were hit the hardest. No less than 35 indy oil stocks were down by 5% or more on Monday afternoon.
Oil is enjoying an oversold rally this morning. It's up more than 1% as I type. Just don't expect black gold to start glittering again. The 2016 oil rally is officially dead. Lower crude prices are in our future.
Sincerely,
Greg Guenthner
for The Daily Reckoning
P.S. Profit from epic comebacks — sign up for my Rude Awakening e-letter, for FREE, right here. Stop missing out on the next big trend. Click here now to sign up for FREE.