Better Than Gold: Book 60% on This Astonishing Trade!
Grab a friend or family member. Ask him this question:
What is the best performing investment of 2016?
He might guess Apple. Or Facebook.
If he reads the Wall Street Journal, he might say gold.
Wrong, wrong, and wrong. We can do better. Just look at silver…
In late June, we told you silver was ready to make a run at $20 for the first time in nearly two years. In only a few days, the poor man's precious metal blasted through $20 and barely looked back. It's been on a historic run ever since…
Now that silver's 5-year bear market is over, it's taking no prisoners. It's up nearly 50% so far in 2016—easily topping even gold's impressive run higher.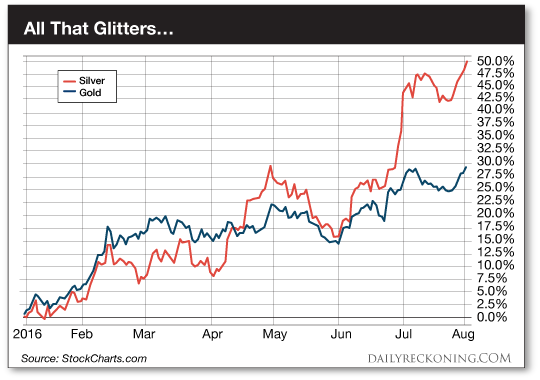 Today, I want you to take advantage of silver's powerful move by booking gains just shy of 60% on one of our strongest trades…
To be clear, I don't think silver's epic rebound is anywhere near finished. But as with all trades, there comes a time to take money off the table. That's what the market's telling us right now. And when the market speaks, we're all ears.
Before we get to the details, here's how silver went from dud to stud this year:
Earlier this year, gold hogged the precious metals spotlight since it started ripping higher in February—and deservedly so. After all, gold surprised nearly everyone with its impressive move off its lows. It's up more than 28% year-to-date. To put that move in perspective, the mighty S&P 500 is up just about 5% on the year after yesterday's swoon.
But silver hasn't earned much ink from the financial press.
Sure, silver kept pace with gold for the first six weeks of the year. But in mid-February gold started to outshine its less lustrous cousin. At the time, gold and other metals were making the most dramatic moves. Earlier this year, we also had the opportunity to book gains on aluminum producers and miners as other precious metals surged.
Meanwhile, silver consolidated.
Silver didn't jump to new highs until mid-April (that's when we first hopped onboard). After another sharp pullback in May, silver roared back. Its bull run accelerated after the Brexit bottom. That's when silver officially left gold in the dust…
Of course, the best way to play silver's move has been the miners. They've been the most straightforward trades on the market for months—and the most profitable. What's even more impressive is how you've had the opportunity to double silver's gains just by playing the miners.
Today, we're taking gains on Silver Wheaton Corp. (NYSE:SLW). We hopped onboard this play back on April 20th. Since then, it's gained nearly 60%, compared to a 22% gain in silver's spot price. It has now risen an impressive six trading days in a row. That's gives us the perfect opportunity to take some money off the table today.
The new bull market in precious metals has treated us well this year. Along with our SLW sell, we're booking 20% gains on two other metals plays today [check out how PRO members got access to these trade ideas].
When silver sets up for a trade after it blows off some steam, you have yet another chance to book gains like these in a matter of weeks.
Stay tuned…
Sincerely,
Greg Guenthner
for The Daily Reckoning
P.S. Make money in ANY market — sign up for my Rude Awakening e-letter, for FREE, right here. Stop missing out on the next big trend. Click here now to sign up for FREE.