You've Been Hacked!
A couple of weeks ago, I noticed some unusual activity on one of my bankcards.
My statement listed three charges within minutes of each other at gas stations and discount stores from different locations across the country.
I called my bank immediately and the rep took care of everything in about ten minutes. It was an obvious case of fraud. I would have my money back in a couple of weeks.
But I wanted to know more. I asked how my information could have slipped into the wrong hands—and what the bank was doing to prevent it from happening again.
The rep immediately transferred me to a different department. But all I learned nothing. Just another scripted response. These things happen. We'll take it from here… 
Sure, I'll get my money back. So that means everything is fine, right?
Wrong.
Hackers are becoming savvier every single day. Consumers and corporations are more vulnerable than ever—especially the ones that are supposed to protect your money.
"When cybersecurity professionals converged in Las Vegas last week to expose vulnerabilities and swap hacking techniques at Black Hat and Defcon, a consistent theme emerged: the internet is broken, and if we don't do something soon, we risk permanent damage to our economy," The Guardian reports.
It's not just schmucks like me who are occasionally inconvenienced by some low-level hacking operation. Large-scale identity theft cases are becoming all too common in the corporate world. Governments and private companies are now forced to play catch-up to protect people against the threat.
That's why cybersecurity will become one of the most lucrative plays of the decade. Research firm Markets and Markets expects cybersecurity to become a $200 billion industry in just five years.
If you haven't found a way to take advantage of this new megatrend, today's your chance…
Cybersecurity stocks took a big hit as the market fell on its face earlier this year. Many of the industry pure plays fell out of favor with investors ever since the stock market began losing steam last summer.
But after dropping double-digits to start the year, the PureFunds ISE Cybersecurity ETF (AMEX:HACK) has fought its way out of the basement…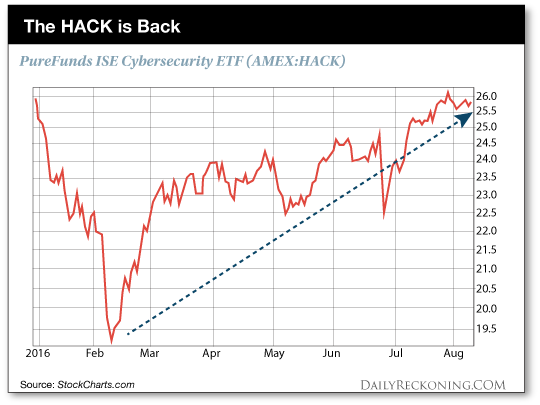 This cybersecurity ETF is now in the green for the year—and searching for higher prices. It appears that the bear market in the cybersecurity industry is over. Remember, cybersecurity plays were some of the best stocks to own during the first half of 2015. If they can find some momentum here, we could see another powerful run higher.
It's time for cybersecurity stocks to get moving in the right direction. This is a huge trend that's not going away anytime soon…
Sincerely,
Greg Guenthner
for The Daily Reckoning
P.S. Profit from the most lucrative play of the decade–sign up for my Rude Awakening e-letter, for FREE, right here. Stop missing out. Click here now to sign up for FREE.