Solar Slammed! Here's What Happens Next…
The stock market is hitting for the cycle.
Instead of singles, doubles, and triples, investors are knocking a different sector out of the park almost every single trading day.
That's bullish, by the way. What we're seeing is a market of stocks emerging. Instead of every sector marching lockstep up and down in an endless chop, we're seeing genuine breakouts pop up left and right.
We bid a fond farewell to the utilities safety trade just two weeks ago. The Utilities Select Sector SPDR (NYSE:XLU) rolled over, while big breakouts in small-caps and other riskier assets started to stick. Biotechs broke out one day. Chinese ADRs took the baton next. Even third-rate social media stocks got in on the action.
But with a market of stocks environment, we also have to deal with some losers. It comes with the territory. Today, we have to jettison some of these anchors from our portfolio before they drag us deeper into the abyss.
I'm talking about solar stocks. Solar has been the biggest gut-punch of the rally. While almost every other industry has enjoyed at least a couple of days in the sun, the skies have turned black for solar stocks.
After topping out 15 months ago, the Guggenheim Solar ETF (NYSE:TAN) has remained trapped in a nasty downtrend. Since mid-2015, this solar ETF has lost more than half its value…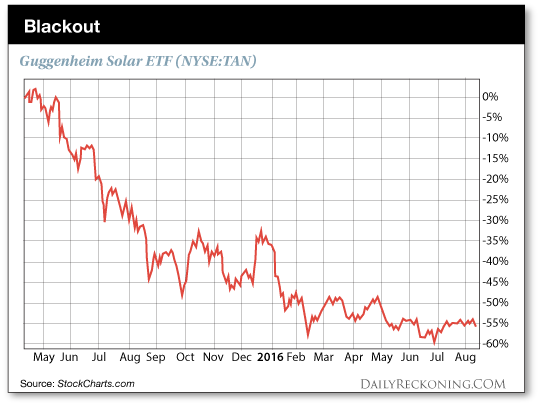 Back in the winter, the solar industry had to deal with the sudden bankruptcy of hedge-fund favorite SunEdison. This week, another meltdown is sending shockwaves through every solar stock on the market…
"SunPower Corp. dropped a 'guidance bomb' that's dragging down shares of solar manufacturers," Bloomberg reports. "The second-largest U.S. panel producer told analysts Tuesday night that it expects to lose as much as $175 million this year, a shift from May when it expected to earn as much as $50 million. The shares plunged the most in more than seven years."
SunPower Corp. (NASDAQ:SPWR) was at the very top of our solar comeback list. The stock appeared to have bottomed out after a final gut-wrenching move that dropped shares below $14 from their April highs of $22. Some bullish action in July pushed shares above their May lows, sparking a small breakout that we were prepared to ride to double-digit gains.
That's when the "guidance bomb" hit…
SunPower's flop kills any hope that a solar rally will appear anytime soon. The stock nose-dived more than 30% yesterday.
But the SUNE bankruptcy and SunPower's collapse have taken their toll on the industry. This week's action has crushed any progress made at putting in a bottom over the past month.
It's no fun getting punched in the face by a trade gone sour. But we have to take what the market gives us. It's worth repeating that we haven't witnessed a trading environment this constructive in more than a year—and we'll be sure to continue to take advantage of all the setups we can get our hands on.
Better days (and bigger gains) are on the way…
Greg Guenthner
for The Daily Reckoning
P.S. We're seeing genuine breakouts pop up left and right. –sign up for my Rude Awakening e-letter, for FREE, right here. Don't miss one breakout move. Click here now to sign up for FREE.