Most Investors Hate this Sector. Here's How You'll Trade it For Fast Gains…
The American consumer is washed up.
Traditional brick and mortar retailers are shuttering left and right. The entire sector is falling apart as malls are gutted and folks spend their money shopping online.
Sound familiar? I thought so…
Most investors have ditched the retail sector for good. But today, you're going to see how you can actually make quick gains by betting on these maligned retail stocks. More on that in just a second…
At the very beginning of the year, we were able to capitalize on a sharp rebound in brick and mortar retailers. Walmart and Macy's are two prime examples. The House of Walton enjoyed a nice bump this year despite coming off a brutal 2015 and relentless pressure from Amazon (Walmart stock is up 23% year-to-date).
But not much has stood in the way of Amazon shares this year.
When it comes to world domination, Amazon's not messing around. The king of E-tail is weaseling its way into every nook and cranny of every household in America. At this rate we'll all have tiny Amazon robots coursing through our frontal lobes, shipping our every whim and desire to us in minutes via drone. Amazon's up 30% since we hopped back onboard this long-term trade in late April. And we don't see this trend letting up anytime soon.
But the traditional retailers are beginning to put up a fight. In just about six weeks, retail stocks have gone from laggards to leaders. And thanks to a few strong earnings reports, these stocks are set to jump to new 2016 highs in short order.
Here's how it all happened…
The S&P Retail Index ETF (NYSE:XRT) hit the skids about midway through last year. But after hitting new lows in February, XRT found renewed life. It broke out of the downtrend that trapped the ETF for more than eight months. Things were finally looking up.
But the good vibes didn't last. After briefly topping its sagging 200-day moving average, the S&P Retail Index ETF fell off a cliff in April after lackluster earnings started to hit. An early summer selloff landed these stocks back on the chopping block.
Everything changed in July. A new quarter started a new trend as many of these beaten-down stocks started to outperform. Since July 1st, retail stocks have gained an impressive 7.8%, compared to a gain of only 4% in the S&P 500…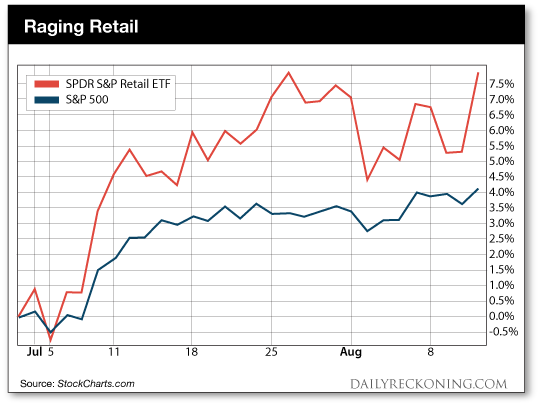 As always, good news follows strong price action.
Macy's (NYSE:M) and Kohl's (NYSE:KSS) reported better than expected earnings yesterday. Both stocks rocketed higher by more than 15% on the day.  Of course, now that a couple of high-profile retail stocks have reversed course, the financial media is quickly switching its narrative…
"The better-than-expected results was a huge relief to investors, as it signals that the U.S. consumer remains strong — easing fears that slowing sales momentum recently at consumer-focused companies like automaker Ford and fast-food giant McDonald's would infect the entire retail space," USA Today reports.
But you don't need to know squat about the economy or the fickle U.S. consumer to book quick profits on a trade in the retail sector. One look at a chart should tell you everything you need to know.
Greg Guenthner
for The Daily Reckoning
P.S. Another powerful comeback trade –sign up for my Rude Awakening e-letter, for FREE, right here. Never miss another signal. Click here now to sign up for FREE.