Here's the Truth Behind New All-Time Highs…
Late last week, the Dow, S&P 500 and Nasdaq all hit new all-time highs. That marks the first time all the major averages set new closing highs on the same day since 1999.
But I have a secret to tell you about these new all-time highs…
It's not about an impending market crash. It's not about panic or a disconnected economy, or any of the other themes the media has bombarded you with over the past decade.
The secret I want to share with you is simple. Yet it has been almost completely overlooked since the Dow Jones Industrial Average began posting fresh highs last month.
The truth about these new highs is that they don't matter—at least not the way you think they do.
It's all too easy to look at these new market milestones through the lens of crisis. Folks want to know why the markets are rising while the economy feels stagnant. The list of worries grows longer every day: Mysterious green swimming pools, Zika virus, earnings, elections… Need I go on?
On top of a vicious 24-hour news cycle that clings to any and everything bearish, investors continue to replay the financial crisis carnage. And they expect the markets to do the same. Their wallets and psyche remain damaged. They do not trust the stock market anymore. Most folks have fled to bonds and money market accounts. Stocks? Fuggetabboutit…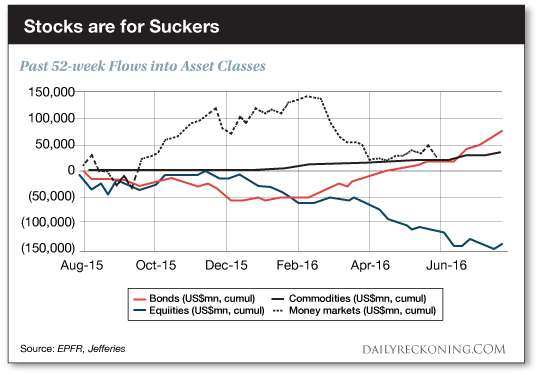 Instead of jumping in with both feet, most folks are suspicious of these new highs.
Are they right to be worried?
Looking back to more recent market tops, it is important keep in mind just how different the sentiment picture is today than it was in 2000 or 2007. During the dot-com boom, consistent moves higher were never questioned. Stocks could not possibly lose value. Even smack in the middle of a secular bear market, the 2007 highs were also met with little scrutiny from the mainstream press. Americans who were flush with cash from an unprecedented housing boom had yet to feel the pinch of a sharp recession. Most investors were in a position to take risk.
That's a very different environment than what we're experiencing today.
New highs aren't market tops. In fact, hundreds of highs registered during the bull markets of the 50's, 60's, 80's and 90's. Tops are only visible with the aid of hindsight. Heck, most investors aren't even aware the market is sitting at its highs right now.
But that's not going to stop the permabears from trotting out their latest terrifying predictions.
Marc Faber just popped up on the TV to tell us that stocks would probably drop 50% over the next year. Faber is responsible for a few of my favorite wacky market calls over the past few years, including a handful of predictions for a crash that will mirror the 1987 panic.
Of course, predictions like these are a huge part of the financial landscape. You've heard most of them. After all, they're shouted out, chopped into sound bites, and then repeated ad nauseam in the media's echo chamber almost every single day.
But just in case you've forgotten to pay your cable bill since the financial crisis, I've got you covered…
In honor of the new highs, here's a brief history of every major stock market prediction since the financial crisis:
2009: The market continues to head sharply lower. But this is only the beginning. Even after a huge decline, stocks are set to move lower–much lower.
2010: The past year and half has been fun. But it's nothing more than a bear market rally. Stocks will drop double-digits before the end of the year.
2011: The Eurozone crisis is only the beginning a downturn that will turn out much worse than what you saw in 2008.
2012: Ok, so we didn't get a correction this year. But it's coming. Stocks are clearly running out of steam.
2013: Stocks are too hot. We're setting up for an epic crash as the market finally flames out.
2014: Everyone is too bullish after last year's big run. Stocks will give back all their gains.
2015: Last year's shakeouts were an early warning. Get out while you still can.
2016: Political turmoil in the U.S. and Europe will ruin any chance at gains this year…
See a pattern here?
Predictions like these aren't going to just disappear. Now that the Dow has notched new highs yet again, you can expect more gloom to bubble to the surface.
That's not necessarily a bad thing.
We'll let the talking heads grab the big bearish headlines. The more negativity surrounding stocks right now, the better. Disbelief is a powerful emotion that can fuel rallies much longer than most people expect…
Sincerely,
Greg Guenthner
for The Daily Reckoning
P.S. Make money in ANY market –sign up for my Rude Awakening e-letter, for FREE, right here. Never miss another signal. Click here now to sign up for FREE.