How a Heinous "Food Crime" Will Line Your Pockets with Cash…
Call the authorities!
Our nation's fast food peddlers are committing a record number of heinous food crimes right now. If the Feds allow these activities to persist, we're all going to die early of obesity related complications.
But there is some good news…
You have a unique opportunity for some serious war profiteering as the fast food superpowers expand their arsenals. Double-digit gains are in your future—even if you are banking at the expense of the Great American Eater.
The latest volley in the fast food wars comes from industry giant Taco Bell. The company is partnering with Frito-Lay to make a burrito filled with rice, meat, queso, sour cream and… Cheetos.
You can't make this stuff up. Take a look for yourself:
I'm not going to lie to you—I would eat this monstrosity. Would I hate myself afterwards? Absolutely. But the concoction is too crazy to pass up. It's as if Taco Bell's head of product development is that weird kid from middle school who used to mash up all the food on his lunch tray into a giant blob before he ate it…
As it turns out, this Taco Bell creation is just the latest in Cheeto-branded fast food abominations.
"Earlier this summer, Cheetos fans were blessed with Mac n' Cheetos," MarketWatch reports. "The Mac n' Cheetos concoction sells at Burger King and is reminiscent of a mozzarella stick sprinkled with Cheeto dust and stuffed with Mac n' Cheese rather than mozzarella cheese."
Sure. Why not? Gotta get your daily recommended allotment of orange coloring, right? From fried macaroni covered in Cheetos dust to pizza crust stuffed with hot dogs, all of the major fast food players are throwing shame out the window in favor of some wild Frankenfoods. Not to be outdone, Burger King is also offering a Whopperito this summer, which appears to be the entire contents of a Whopper hamburger tossed in a blender before being mushed into a flour tortilla.
And it's been great for their stock…
At the Fast Food Olympics, gluttony takes the gold. That's why junk food stocks are soaring. Pizza, burgers, and donuts—we told you late last month that these stocks have been breaking out right and left.
These greasy stocks have a lot more room to run. The fact is, folks are ordering in and eating out in record numbers. And these cheap fast food joints are a great way to play the trend.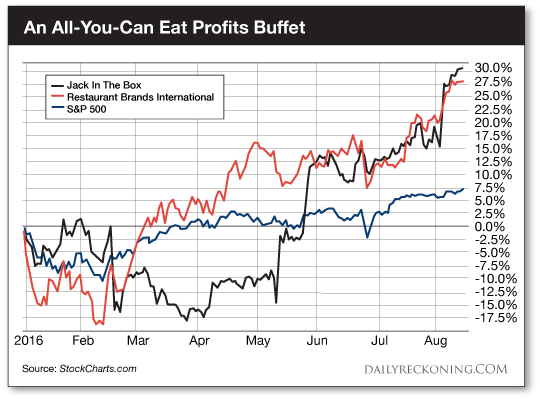 After yesterday's gain, Jack In The Box Inc. (NYSE:JACK) is now up more than 30% year-to-date. Restaurant Brands International (NYSE:QSR)—parent company of Burger King—is right on Jacks' tail with a year-to-date gain of more than 28%. For reference, the S&P 500 is up about 7% so far this year.
In this market, the strongest stocks are extending their gains. So peel yourself off the couch and pick up some shares today for a trade…
Sincerely,
Greg Guenthner
for The Daily Reckoning
P.S. Make money in a falling market –sign up for my Rude Awakening e-letter, for FREE, right here. Never miss another signal. Click here now to sign up for FREE.