The Simple Secret to Bagging Huge IPO Gains
These stocks were left for dead just a few weeks ago…
But as the bull expands this month, the most hated names on the market are getting a second chance at greatness.
I'm talking about fresh IPOs. These newly-listed stocks are beginning to explode, handing traders massive gains in a matter of days. In fact, two of the best performing names of the summer are newly listed stocks.
Acacia Communications (NASDAQ:ACIA) began trading in May. It hasn't looked back. After churning higher for three straight months, shares are up nearly 350%. Twilio Inc. (NYSE:TWLO) is the same story. This stock debuted in June—and has risen nearly 300% since its first day on the market…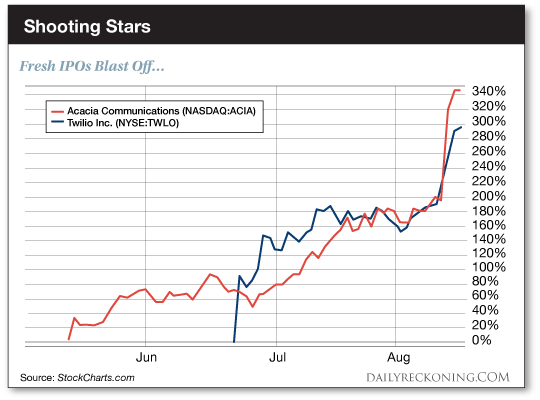 There simply aren't many fresh initial public offerings for investors to choose from these days. When the market soured earlier this year, the number of companies going public fell of a cliff. New tech stocks—the bloodline of the IPO market for more than a decade—completely dried up.
Bloomberg noted at the start of the summer that just one tech company had hit the market so far this year. That's the fewest IPOs at mid-May of any year since 2003.
"Unless there's a significant shift in the IPO market, it is going to take years for the roster of highly valued startups like Uber, Pinterest and SpaceX to wind their way to the public markets," Bloomberg notes. "Some of them are going have an unpleasant end before they get to an IPO. And the tech industry can't stay healthy if investors aren't able to take their companies public."
Meanwhile, a lack of supply is helping to drive the few IPOs that have made it to the market to insane levels.
Even the financial Twittersphere is hypnotized by the shock and awe of the recent moves…
Of course, these red-hot IPOs won't magically rise forever. We should see some big shakeouts soon as shares overheat. It's all part of the process…
"Older" IPOs catching a bid is another helpful side effect of the IPO reboot. Back in the winter, I warned you to stay away from some of these more mature IPOs that had already flamed out. But now it appears we have some legit turnarounds on our hands…
Payments startup Square (NYSE:SQ) managed to float near its highs for most of December. But the January market swoon quickly dragged it under. Shares fell more than 40% in a matter of weeks. But ever since the Brexit bottom, shares have jolted back to life. The stock is now working on closing its nasty May earnings gap.
Then there's Fitbit (NYSE:FIT). This stock is down almost 40% year-to-date. But like Square, shares are rocketing off their summer lows. Even after giving back more than 1% yesterday, FIT shares remain above their May 5th highs.
The simple secret to trading these wild stocks is to wait out the big drop—and jump onboard once you can confirm a recovery is in the works. That's when the big momentum moves kick in and deliver the fastest gains.
If these stocks can capture a fraction of the magic of its newer IPO cousins, you will be handsomely rewarded…
Sincerely,
Greg Guenthner
for The Daily Reckoning
P.S. Make money in ANY market –sign up for my Rude Awakening e-letter, for FREE, right here. Never miss another signal. Click here now to sign up for FREE.