Get Your Money Back with a Red Hot "Revenge Trade"
They say revenge is a dish best served cold.
But I'm not one to wait around when the market gives me a clear signal on a trade. Today, the market's giving us a shot at getting our money back (and then some) on a trade that quickly went sour just a few months ago.
Here's how it happened…
You no doubt remember the kneejerk Brexit reactions back in late June courtesy of emotion-fueled investors. Jittery traders gave the major averages a flush that triggered a couple of sells in our trading portfolio.
Getting stopped out of a trade is no big deal. Heck, it happens all the time. If you want to remain profitable in the long run, you have to take a lot of small losses.
But you will run into some trades that get under your skin. For me, these are the stocks that play possum, stop you out, then flip the switch and rip higher.
That's exactly what happened to our semiconductor play…
Back in June, the VanEck Vectors Semiconductor ETF (NYSE:SMH) had already fought off its lows and broken out to new year-to-date highs. After posting higher lows in May, semiconductors look ready to rip back toward their pre-correction highs. A quick retest of the breakout zone near $56 was the perfect springboard move to higher prices.
That's where we jumped onboard.
Semiconductors looked like the perfect snapback trade for a market melt-up—especially when you consider the sector's lagging performance leading up to its big breakout. Investors couldn't sell these names fast enough last summer. Semiconductors began badly lagging the broad market as soon as the second quarter kicked into gear. That was a bearish sign for stocks. Why? Semiconductors have matured into an important economic barometer. And one year ago, the start of the big "semi slide" was the canary in the coal mine for the broad market's big leg lower that began just two months later.
After the semiconductor crash, these stocks stumbled along with major averages as they continued along their range-bound chop fest.
But this year, semiconductors have quickly snapped back to life. The sector took the lead from the S&P 500 back in May. After the Brexit bottom, it punched the gas. Take a look…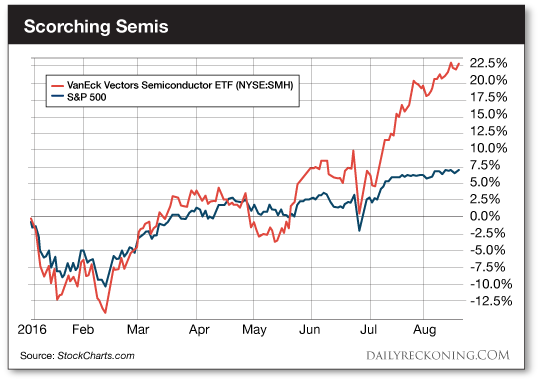 While the S&P 500 has recovered to a 7% gain year-to-date, semiconductors are now up a staggering 22%.
When we first hopped on our trade in June, we noted that semiconductors were some of the first stocks to reverse course and break down 12 months ago—and they had the potential to lead the market higher out of its correction.
Unfortunately, the market had other plans. It didn't want us onboard for the ride.
Instead of crying in out Cheerios, we're going to take action. The market offers up new opportunities every single day. Right now it's giving us a chance to jump back into the semiconductor trade we missed earlier this summer.
Sincerely,
Greg Guenthner
for The Daily Reckoning
P.S. Turn a small loss into a big gain –sign up for my Rude Awakening e-letter, for FREE, right here. Never miss another signal. Click here now to sign up for FREE.