Even the Fed Can't Sink This Powerful Market Trend…
The major averages are posting new all-time highs together for the first time this century.
The Nasdaq has finally smashed through its 1999 dot-com top, joining the S&P 500 and the Dow Jones Industrial Average in uncharted territory. A rejuvenated market is flashing new and powerful trading opportunities…
But if you're searching for some passionate bulls, you're going to have to keep looking.
Instead of watching the market this week, investors are watching the Fed. Federal Reserve Vice Chairman Stanley Fischer popped up in Aspen on Sunday afternoon to say that the U.S. economy is close to central bank targets, signaling a potential rate hike is on the way before the end of the year.
Of course, the central bank rumor mill is spinning out of control thanks to the big meeting in Jackson Hole this week. The Financial Times is already whipped into a frenzy, leading its coverage with concerns that "central banks' recession-fighting firepower is thin, and that an overhaul may be needed for how authorities steer their way through the economic cycle."
A complete overhaul probably isn't necessary. Isn't it more fun to watch the Fed squirm every time the S&P drops 100 points?
I don't know what's going to happen this week. But I can tell you I won't spend one second of my time analyzing Fed statements. You shouldn't either.
We don't own a crystal ball. We can't possibly predict how the market will react to any given news event. We have to be prepared for just about anything.
Remember, countless analysts and economists tripped all over themselves trying to predict what would happen as Britain stumbled toward splitting with the European Union only two months ago. In the immediate aftermath of the Brexit vote, investors used the results as an excuse to sell.
Did anyone have a clue that the quick selloff would pave the way for a run to new highs just a few weeks later?
Of course not.
You have a choice. You can gnaw every one of your fingernails off as you unsuccessfully try to predict how the market will perform if and when the Fed raises rates. Or you can stick to your trading plan and let the market do the thinking for you.
The list of things we don't know is miles long. Ignore it. Focus on the signals.
Here's what the market (not the news) is telling us right now:
Stocks are treading water near their highs. MarketWatch notes that the major averages have not lost more than 1% in the past seven weeks. Even though it's August—traditionally one of the slowest months of the year—buyers have not completely vanished.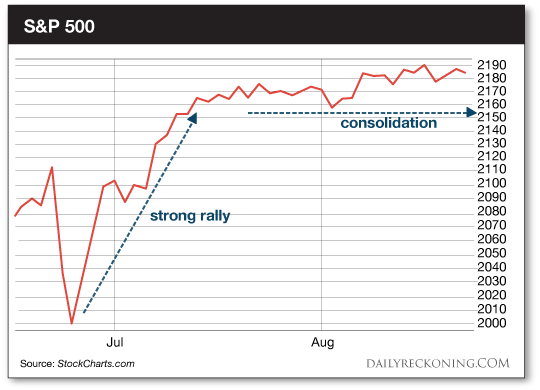 There's absolutely nothing wrong with this market action. You're going to read a lot about stocks "stalling out at their highs" if the averages continue to trade in this tight range. Don't listen to it. Unless we see actual evidence that a breakdown is on the way, we should assume the next move with be higher.
The market is firing off more trading opportunities.  For most of this year, we've recommended "half trades" (risking half of what your normally would on any given trade). This technique was a great way to stay involved with the markets without having to endure too much pain from the choppy action.
You've probably noticed that we haven't mentioned scaling back your buys recently. Since the market gave us the green light last month, we've been able to expand your trading portfolio to take advantage of the bullish action.
New market leaders are emerging. At the start of 2016, we were forced to scour some of the less traveled paths to find suitable trade setups. The strategy paid off with some key commodity snapback trading opportunities that most folks completely ignored. But we weren't trading as much as we'd like.
That's all changed now. We're seeing a much healthier market this summer. A new sector or industry is gaining steam every week. And new market leaders like technology stocks are offering up plenty of powerful trading opportunities.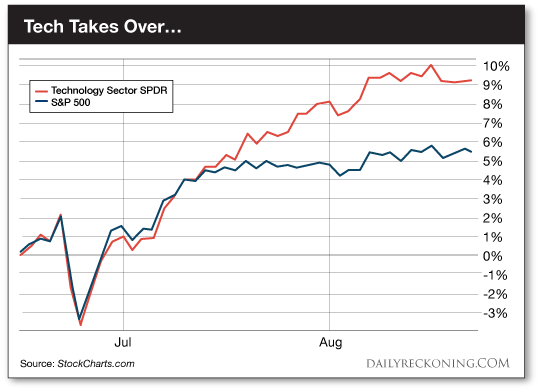 As always, anyone who tells you they know exactly how everything is going to play out is full of you-know-what. In this noisy market, stick to what matters most: your next trade setup.
Sincerely,
Greg Guenthner
for The Daily Reckoning
P.S. Make money in ANY market — sign up for my Rude Awakening e-letter, for FREE, right here. Never miss another signal. Click here now to sign up for FREE.