The Purge is Over: These Speculative Stocks are Ready to Soar!
The Nasdaq squeezed out a paltry 6-point gain on Monday. The Dow and S&P 500 finished the day just in the red.
Not much to do with the market on pause this month, right?
Wrong.
There's plenty of action happening beyond the grasp of the major averages. And if you know where to look, you can add another red-hot trade to your summer stock portfolio…
I know that the typical investor who just follows the major averages hasn't had much excitement in his life over the past year. Sure, we had to endure a couple of steep drops. But at the end of the day, the Dow, S&P, and Nasdaq went nowhere. If you only checked on your account once a quarter, you probably wouldn't have noticed anything at all…
But if you bothered to scratch below the surface of the S&P 500, a sea of carnage would knock the complacency right out of you.
When stocks first started acting wobbly last summer, the most speculative names that were hit the hardest. Unless you wanted to end up in the poor house, you were forced to cut these stocks loose in favor of the big, safe investments that were propping up the S&P 500.
Ground zero for the speculative stock purge was the biotech sector. These higher-risk investments took some serious punishment for the better part of the past year. When the going got tough for biotech, investors flee to safety by scooping up utility stocks and consumer staples plays.
The result? A nasty biotech bear market.
From peak to trough, the iShares Nasdaq Biotechnology Index dropped 40%. That's 12 months of terrifying downside action for any investor who decided to try and ride out the move…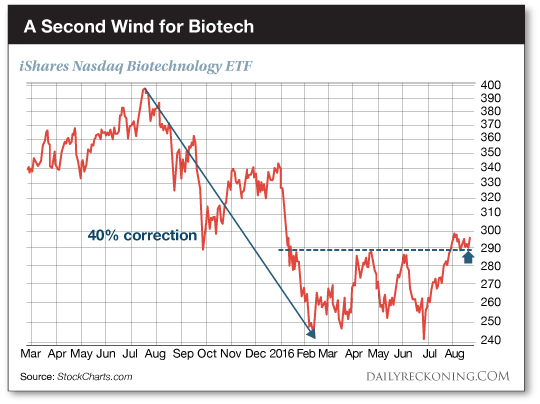 Compared to this destructive action, enduring a yearlong stall-out in the major averages isn't anywhere near the end of the world.
But all is not lost for biotech. In fact, these stocks are setting up to deliver epic returns once again…
The bottoming process for the sector began in February. But the initial bounce was short-lived. It took five months of merciless chop and a retest of the lows in late July before we were treated to a breakout move. After a little consolidation, these stocks are starting to springboard off support. That gives us the green light to scour the sector for some explosive new trades.
Of course, a little bullish news isn't hurting our baby biotech bull. Just yesterday, pharmaceutical giant Pfizer announced it is buying Medivation Inc. (NASDAQ: MDVN) for an eye-popping $14 billion. This news was enough to send some of the bigger biotechs much higher on a day when the market stood still.
After more than a year of pain, stocks like these biotechs are starting to look ripe for a trade again. Everything is falling into place. The major averages are consolidating near their highs. Breakouts are holding. Other beaten-down sectors are catching a bid. After months of tough trading, the market's handing us the perfect opportunity jump in with both feet.
Speculative biotechs with new and exciting drugs nearing potential approval can deliver explosive gains. And these stocks aren't even close to attacking their highs. If you're searching for a trade with plenty of room to run, look no further.
It's time for biotechs to shine once again…
Sincerely,
Greg Guenthner
for The Daily Reckoning
P.S. Profit from the second wind in this breakout sector — sign up for my Rude Awakening e-letter, for FREE, right here. Never miss another signal. Click here now to sign up for FREE.