Back from the Dead: Another Forgotten Tech Trend Blasts Higher
A popular emerging technology trend is about deliver spectacular gains.
The clues are hidden in plain sight between the lines of a "dying" corporation's earnings report…
It all begins at your local electronics warehouse.
With all the talk of empty malls and failing big box retailers, you would think the entire world was doing 100% of its shopping online.
Of course, the media has greatly the exaggerated demise of traditional retailers. Make no mistake—many of these stores aren't spectacular long-term investments. But they aren't folding without a fight.
Take electronics giant Best Buy (NYSE:BBY). The company surprised the Street on Tuesday with an earnings beat that sent shares soaring double-digits to new 2016 highs. For the past couple of years, Best Buy has come under some tough scrutiny due to its failure to keep up with Amazon. But with strong sales coming in this quarter, Best Buy is silencing these critics—at least for now.
You shouldn't chase Best Buy shares here (I still don't like the stock). But if you dig deeper, you'll find a hidden clue about a major trend in Best Buy's earnings report:
From a merchandising perspective, comparable sales growth in health & wearables, home theater, major appliances and computing was partially offset by declines in mobile phones and gaming.
There it is in black and white: wearables. These gadgets come in many shapes and sizes. And they're driving sales growth at physical electronics stores and across the web.
Wearables haven't exactly been an easy nut to crack. While some smaller companies have managed to carve out a nice niche in the industry with various fitness trackers, cameras, and other gadgets, some major corporations have already thrown in the towel…
"Many may have forgotten Nike used to have their own branded Nike Fuel bands designed compete with Fitbit and others," Forbes reminds us. "Nike's efforts ultimately failed, and the company shut down the entire project."
High profile failures like these kept most investors away from wearables after the initial hype wore off. You probably remember camera maker GoPro (NASDAQ:GPRO) and its fall from grace after the company's 2014 initial public offering. The stock posted a breathtaking fall from a high of $98 in October 2014 to a low near $9 earlier this year.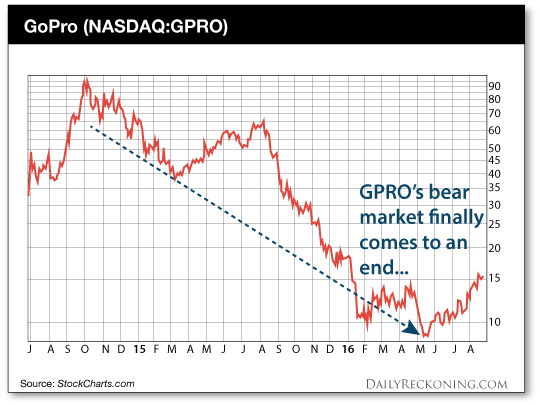 But GPRO finally set up for a potentially lucrative trade on the long side earlier this month. The stock is up five weeks in a row and continues to make progress toward getting back some of its market cap that was lost over the past two years.
Today, we have our sights on another trade to capitalize on the wearable trend. It's a stock that's almost a household name—yet few investors are willing to bet on its recovery just yet.
But that's all about to change…
We discussed how the Fitbit (NYSE:FIT) chart was beginning to shape up last week. At the time, the stock was down almost 40% year-to-date. But the stock was starting to bottom out. After a retest of support, we're seeing some bullish springboard action.
Like GoPro, investors wanted nothing to do with this stock earlier this year. The market's January swoon swallowed FIT shares whole. By February, FIT was posting new lows.
A quick retest in July helped set up the red-hot rally off its lows. Now FIT shares are looking to smash higher—and reward savvy traders who see the writing on the wall.
Fitbit stock still has a ton of work left to do before it can even come close to sniffing its January highs. But we don't need the stock to jet all the way back to $30 to profit from this trade. If FIT only closed its May earnings gap, you would pocket gains close to 15%.
If FIT can recapture just a fraction of its IPO magic from last summer, we could see an even bigger move before the year is finished. It's the perfect compliment to your growing list of comeback plays.
Sincerely,
Greg Guenthner
for The Daily Reckoning
P.S. Your list of comeback plays keeps getting longer–sign up for my Rude Awakening e-letter, for FREE, right here. Don't miss the next comeback. Click here now to sign up for FREE.