Did Crooked Hillary Just Take a Bite Out of Biotech Stocks?
Can a bag full of hot air sink an entire stock market sector?
You're about to find out…
It's no secret that the government loves to meddle in our lives. But this time they've gone too far—they've screwed with one of our trades.
Here's how it all started:
In an effort to drum up some populist furor as we approach election season, lawmakers have decided to take a few shots at drug maker Mylan (NASDAQ:MYL). The reason? Mylan makes EpiPens, a drug used to combat life-threatening allergic reactions. Some folks think EpiPens are too expensive—and the company has been gradually raising the price for years.
That alone was enough to get a little media attention. But here's where the situation really heats up…
Yesterday, Hillary Clinton's campaign decided to pile on. The campaign issued a statement calling EpiPen price hikes outrageous. Clinton is also calling on the company to "immediately reduce the price of EpiPens".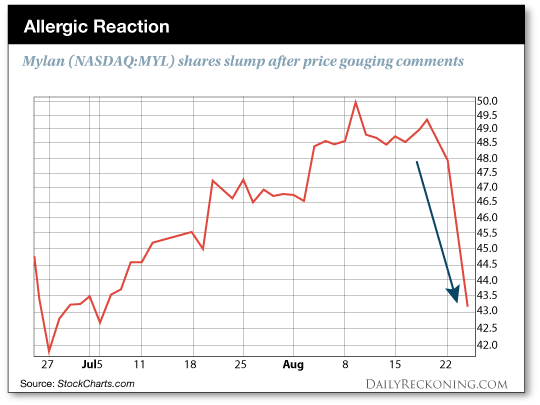 Is Clinton blowing smoke? Is she peeved that little ol' generic drug maker Mylan didn't pony up the big bucks for her campaign? Will President Hillary really regulate the drug market with an iron fist?
It doesn't matter.
Hillary's campaign can politicize the issue all they want. The damage is done. Mylan shares sank more than 5% by the closing bell, extending the stock's four-day skid. And it wasn't the only drug company to take one on the chin. In fact, the entire health care industry sold off yesterday afternoon. Check out the carnage for yourself:
They Mylan attack has hit biotech stocks especially hard. The iShares Nasdaq Biotech ETF (NASDAQ:IBB) finished the day down more than 3%. That has some folks worried that another nasty slide is on the way…
"Clinton going after another pharmaceutical company for predatory pricing on Wednesday harkens back to her tweet last September when she called out Martin Shkreli and Turing Pharmaceuticals — but also the drug and biotech industry more broadly — for price gouging," Adam Feuerstein writes at The Street. "That tweet caused a huge selloff of biotech stocks as investors feared government meddling into drug pricing — and industry profits."
So is the EpiPen fiasco about to set off another biotech bear?
I doubt it. As we explained earlier this week, the bottoming process for the biotech sector began all the way back in February. After five months of merciless chop and a retest of its lows in late July, we were treated to a breakout move. While yesterday's drop was painful to watch in real-time, it wasn't large enough to signal the end of the biotech rally that began in June.
Mylan is already going on the defensive this morning, announcing that a new discount plan would cover up to $300 of the cost of a two-pack of EpiPens, reducing the out-of-pocket cost by 50%. I don't know if this move will halt the stock's slide, but it's a start.
Over the next several trading sessions, we could see some additional consolidation and even some more wild swings in biotech stocks. That's fine. After all, it's August. Trading is slow. The Fed is here to rock the boat this week. And the major averages have been pretty darn quiet for weeks.
Yesterday's action could very well be an event that simply shakes out the weak hands before the next leg higher. Let's hang in there for now and wait to see how it all plays out…
Sincerely,
Greg Guenthner
for The Daily Reckoning
P.S. The end of the biotech breakout? Sign up for my Rude Awakening e-letter, for FREE, right here and never miss another update. Click here now to sign up for FREE.