Tune Out Jackson Hole: Ignore the Fed and Prosper
When Janet Yellen speaks, the world listens!
But not us.
The Fed chair is scheduled to address her fellow central bankers at Jackson Hole in just a couple of hours. Instead of tuning in, I'll be sifting through a pile of charts. Heck, maybe I'll listen to some soothing music. Anything but inflation target ramblings and talk of metaphorical toolkits…
Investors seem to believe Yellen will offer some form of clarity today when it comes to rate hikes and Fed policy moving forward, specifically when it comes to next month's meeting.
But I have a sneaking suspicion they'll find nothing but disappointment…
"Don't expect Yellen to give a clear guidance in Jackson Hole," Commerzbank AG  strategist Ulrich Leuchtmann tells Bloomberg. "The Fed is data dependent at this point. Yellen's topic is the 'Fed's toolkit' and in talking about this she has to speak about expansionary instruments as well. She may say she can act in all directions. There is risk of market misinterpretation."
Market misinterpretation? This guy must be talking about the wild swings we see every time a new Fed announcement hits the airwaves. But at least we'll be treated to a short break from the mundane market action that has defined August trading this year.
Yes, the major indexes have finally settled down after a crazy start to the year. Traders are bored. And the recent pause has a lot of folks scratching their head about what's next.
But I have news for you—our friends at the Fed are scratching their heads, too. Don't believe for one second that they have any idea of what's in store for us over the next few months…
Back in the winter when stocks were crumbling left and right, Yellen & Co. pushed back on their hawkish stance and ruled out an April rate hike. Then June was off the table. Now September is on deck.
After the Brexit vote, the futures markets were placing the chances of a September rate hike at 0%. Zero Percent! As world markets continue to recover from the sting, the odds of a hike next month have crept back up to 30%.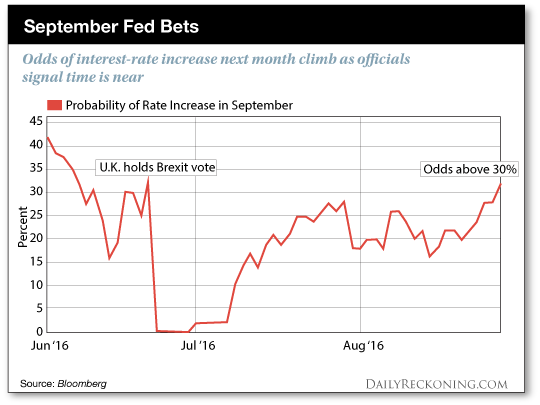 As the winds change, so do the predictions. Even the smartest guys in the room feel like fools after the market's finished with them…
But you don't have to fall into the trap.
Here are your options this morning as the big, scary Fed approaches…
You can glue yourself to your computer screen and attempt to trade every single false rally and plunge as the market digests whatever "news" leaks out of Jackson Hole.
Or you can close your laptop, turn off the television and eat a bagel. Go for a jog. Read a book…
Let the market marinate for a couple of hours. It'll still be there this afternoon. And if the trend continues (which it usually does) it will probably end up right where it was before all of this Fed fanfare…
"Markets are incredibly quiet this August (in sharp contrast to last year), so investors are latching on to anything they can, which gives this meeting a lot more attention than it probably deserves," ETX's Capital's Neil Wilson says.
He's probably right.
Instead of marching to the Fed's beat today, we're going to follow Timothy Leary's advice:
Turn on, tune in, drop out. 
Sincerely,
Greg Guenthner
for The Daily Reckoning
P.S. Make money in ANY market–sign up for my Rude Awakening e-letter, for FREE, right here. Never miss another buy signal. Click here now to sign up for FREE.