Here's What's Wrong with Gold
Gold hasn't tripped down the stairs today… yet.
Bu the yellow metal hasn't acted healthy lately. Gold futures dropped 1% on Tuesday, settling at the lowest levels we've seen since June.
What gives?
So far this year, we've revealed more than a handful of ways to play gold's rebound. And for the first six months of 2016, gold plays were our most profitable trades of the year.
But markets move fast. After a rip-roaring first half, gold is stalling out. Just two months ago, we were watching precious metals and miners vault to two-year highs as the Fed backed off on a summer rate hike and world markets shook in fear of the Brexit vote.
Fast forward two months and gold's outlook is drastically different. The major averages survived the Brexit shock, defied the pundits and marched higher. On the other hand, the once-unstoppable gold and gold miners trade started to stall out. Then it fell off a cliff…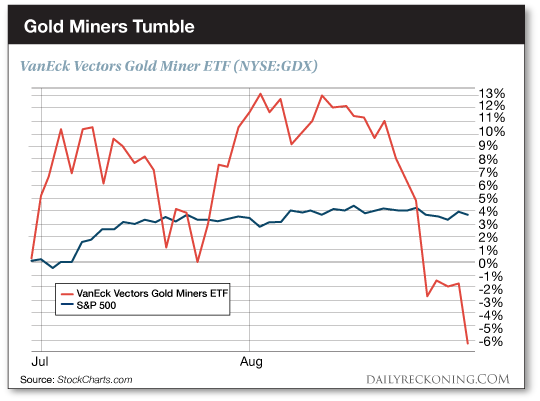 Since July 1st, the S&P 500 has gained nearly 3.7%. Over that same timeframe, the VanEck Vectors Gold Miner ETF (NYSE:GDX) has lost more than 6.5%. That's a major change in character from the start of summer when gold was leaping higher every single week.
Yesterday's punch in the golden gut came courtesy of the U.S. Dollar. A resurgent dollar is inflicting some serious damage on the commodities market this week. Of course, the formerly red-hot gold miners are feeling the heat while this story unfolds. The fast money is moving on to newer and better trades, and precious metals and miners continue to retreat from their July highs.
A lot of folks will try to hang onto these mining stocks as they stumble toward Labor Day. The market might eventually reward them for doing so. But we can't ignore what price is telling us right now…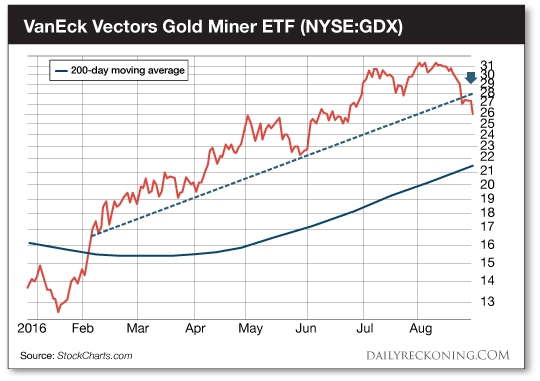 As gold miners have weakened this month, the group has dropped below a critical near-term support level near $27. This move snaps the uptrend that has powered miner shares higher all year. The next support level in sight is between $21-$22, which would lead GDX to a test of its 200-day moving average.
The market has spoken—it's time to sell.
I'll keep an eye on gold and the mining sector as it fights this bout of volatility. If gold miners reverse course, find support, and blast higher, I'll gladly get us back into some potentially profitable trades. But for now, the right move with gold and gold miners is to wait on the sidelines.
Of course, other outside forces are also pulling at gold. We could spend all day speculating about whether or not the Fed will raise rates in September and how this will impact gold over the next one, three or five years. But even if rates remain the same for now (which the smart money favors), gold could continue to break down.
We can't sit around waiting for the Fed to act. Price leads the news. Right now, price says sell. It's that simple…
Sincerely,
Greg Guenthner
for The Daily Reckoning
P.S.  Make money in ANY market –sign up for my Rude Awakening e-letter, for FREE, right here. Never miss another buy signal. Click here now to sign up for FREE.