Breakout Trading is Back!
The major averages are resting near their all-time highs this morning.
But that's not stopping a parade of bearish calls from Wall Street's biggest names. The billionaires are all wearing bear suits—and the negative vibes are trickling down to investors across the country. It feels like every analyst and pundit in the world is calling for a market crash at some point in the fall.
But the charts are telling a different story. The speculative names that no one wanted to touch during the recent correction are catching a bid. Breakout trading is back!
This glaring disconnect is setting the stage for some potentially powerful trades. Earlier this year, we were forced to settle for "quick hits" as new rallies failed left and right. But now that stocks are holding strong, we can expand our timeframes and begin looking for those bigger trades that play out over the course of several weeks and months. These core plays are the trades that can make your year insanely profitable…
To help combat your emotions and get you into the right stocks when the big opportunities arise, here are some rules we'll use to ride the big trends as the market continues to coil this week:
Hitch a ride on popular trends.
Large, well-known stocks in popular or upcoming industries work best for longer-term ideas. Your trade needs to be easy to understand. You should even give it a solid barstool pitch before it passes the test. If you can't convince a buddy at a bar that the idea makes sense, you should scrap it (just make sure you're both relatively sober).
Many of these "story stocks" were hit particularly hard over the past year. Just look at cyber security stocks. This industry tanked more than 40% as the market corrected. It's just now starting to find some positive momentum.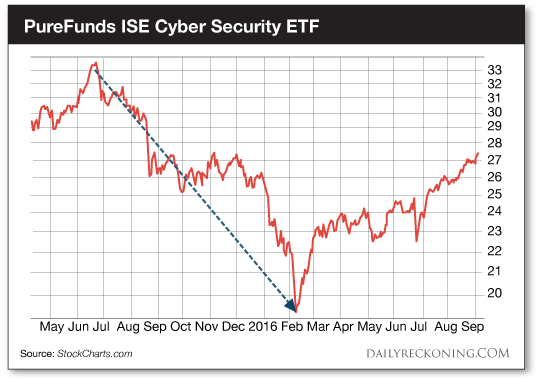 Did hackers take a yearlong vacation? Are cyber attacks dropping?
Of course not.
In a falling market, it's usually the popular, story-driven names like these that are hit the hardest. But they also make some of the best comeback plays once the market starts the look healthier.
Give your long-term plays room to run.
Don't get hung up on selling your trade at the perfect moment. It's never going to happen.
All you need is a pre-defined exit signal to keep you from second-guessing yourself or making an emotional trade. And yes, that means you might have to endure a little pain along the way.
For short-term trades, you want to keep a tight stop. But if you're looking to play a bigger trend, you need to give your stocks some wiggle room. Otherwise, you're going to miss out on the big gains.
Under Armour stock significantly violated its 50-day moving average more than seven times from 2013 until it peaked last year. Shares jumped from $22 to $78 over that period (split adjusted). You should consider something closer to a 200-day moving average or other longer-term trendline instead. 50 days isn't enough for a long-term conviction play.
Don't be afraid to buy strong breakouts.
Don't shun stocks just because some folks believe the market will eventually move lower.
"The stock market is never obvious," Jesse Livermore once said. "It is designed to fool most of the people most of the time."
The solution? Get over your fears and hit the buy button once your trading ideas send strong breakout signals. If one of your watch list stocks is up more than a few points on the day, one of the worst things you can do is to put off buying.
The recent correction offered us more than a few sweet discounts in several different sectors. Once a stock on your list reverses course, you can't get greedy and wait for a short pullback that might never come. The best stocks aren't going to sit around waiting for you to get in a couple of bucks lower.
Ignore the noise. It's time to follow the trends as the market works to fool the masses…
Sincerely,
Greg Guenthner
for The Daily Reckoning
P.S.  Make money in ANY market –sign up for my Rude Awakening e-letter, for FREE, right here. Never miss another buy signal. Click here now to sign up for FREE.