It's Time to Bet on a China Comeback
Remember when a slowing Chinese economy was about to ignite a global recession?
Allow me to refresh your memory. Let's turn back the clock to last summer…
The Shanghai Composite found itself in the midst of a flat-out crash in June 2015, officially putting an end to a 12-month buying spree. While Chinese shares tanked, analysts predicted the worst was yet to come. Well-known Chinese stocks that trade on U.S. exchanges started falling off a cliff. Investors wanted out at any price.
Now that global markets are in recovery mode, you've already figured out that the China slowdown didn't obliterate world markets. But you probably didn't notice that these same Chinese shares are now posting powerful breakouts.
If you're quick enough, you can even grab onto these resurgent stocks for lightning-fast gains before most investors figure out what's going on. You won't have to wait around for these shares to start ripping higher. The financial media has already done the heavy lifting for us, scaring away the dumb money as these Chinese stocks started to bottom out.
It all started exactly one year ago as Barron's declared Alibaba (NYSE:BABA) shares were about to get cut in half:
That's Alibaba CEO Jack Ma's grinning mug, along with the bold declaration that beleaguered Alibaba shares are poised to drop 50%.
This issue hit newsstands on September 14, 2015. That's after the Chinese online retail giant's shares had already endured a sharp drop of more than 40% from their November 2014 highs.
The article was scathing. Barron's took a chainsaw to Alibaba's growth projections, forcing the company to respond publically to defend its business model.
When you see a big story like this show up, certain events begin to unfold…
First comes the inevitable panic selling as investors who'd been clutching Alibaba shares since the stock was over $100 begin to think all is lost. That usually washes out the last of the weak hands and speculators who poorly timed their trades.
Then the real fun begins. As the panic reaches fever pitch and there's no one left to sell, you start to see the initial bounce off the lows.
Alibaba stock posted its lows right as the third quarter came to a close. No fund manager wanted to be chained to this stock heading into the end of the year.
That's when the first signs of a true comeback materialized.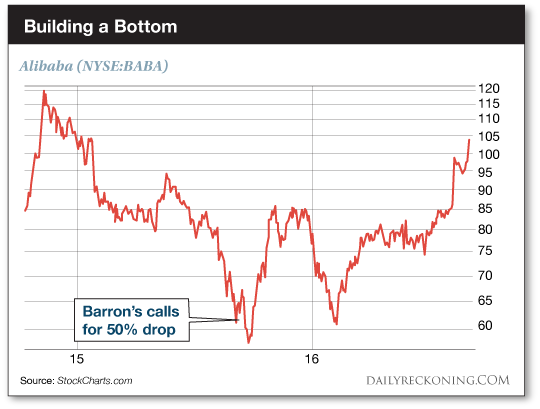 Yes, Alibaba was ridiculously overhyped when it debuted on the New York Stock Exchange back in 2014. After ripping higher in its debut, it completely fell apart. Typical IPO hype—followed by a fantasy-crushing crash.
But after almost a year in the gutter, Alibaba is coming back to life. The stock has done more than gain some positive momentum as we wrap up the summer trading lull. In fact, Alibaba and other Chinese ADRs are blasting off left and right. Since Barron's called for the big drop, Alibaba shares are up more than 60%. Half of these gains have materialized over the past five weeks.
Alibaba isn't the only Chinese ADR streaking higher to start the month. Some of the biggest, most recognizable Chinese stocks are now leading the markets higher.
Weibo Corp. (NASDAQ:WB), which Bloomberg describes as the most popular of China's Twitter-like microblogging platforms (Twitter and Facebook are both banned in China) has jumped almost 60% since August 1st. In all, I count 18 liquid Chinese ADRs that jumped more than 3% yesterday. There's no question that the bigger Chinese stocks are attracting new buyers this month.
While these red-hot shares span a variety of sectors and industries, I think the best possible course of action is to narrow your search to Chinese technology and internet stocks these are the names that could get the most attention.
Sincerely,
Greg Guenthner
for The Daily Reckoning
P.S.  Profit from a purely profitable comeback — sign up for my Rude Awakening e-letter, for FREE, right here. Never miss another buy signal. Click here now to sign up for FREE.