An Old School Signal is About to Crack the Stock Market Wide Open
The stock market is quiet.
Too quiet.
Need proof? We have the stats for you…
The S&P 500 has been stuck in a 1.5% trading range for 36 days now, our colleague Dave Gonigam reminds us. That hasn't happened since 1964. In fact, investors haven't endured a single big move in over a month now. It's been 42 days since the S&P has posted a 1% gain or loss. That's only the sixth time that's happened since 1980, says noted technician Ryan Detrick.
The spring continues to coil. Eventually, we're going to see a big move one way or the other.
Eventually.
Which way will the market break? No one knows for sure. But there are some clues percolating under the market's quiet exterior.
While the major averages exercise their right to remain silent, one group of stocks could be about to signal a massive market rally. If this group continues higher at its current pace, these beaten-down stocks will completely wipe out losses of nearly 30% and trigger one of the oldest bull market indicators on the books.
I'm talking about transportation stocks. After the Brexit bottom, the Dow Jones Transportation Average was one of those down and out groups that started to power higher. Transportation stocks like airlines had been absolute dogs for weeks. But as the market bottomed out, these sickly stocks began to actually outperform the major averages.
After yesterday's gains, the Dow Jones Transportation Average is sitting at four-month highs, breaking out of its downtrend and setting the stage for a run toward its 2015 highs…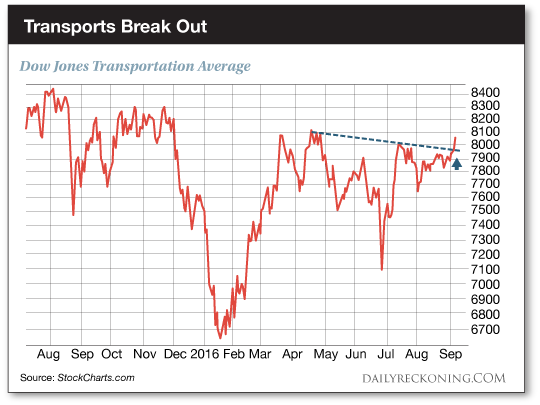 Why does this matter?
First, it's important that these lagging transportation stocks make up for lost ground. Transports have endured an actual bear market as the major averages have chopped along for the past two years.
The transports also play a key role in measuring market moods. This is where a market timing tool called Dow Theory comes into play. Dow Theory uses two indexes to measure the market's primary trend: The Dow Jones Industrial Average and the Dow Jones Transportation Average.
The idea is that the two groups combined can measure the overall health of the economy. If the industrials are performing well along with the transports, we can assume goods are being made and delivered. In other words, the economy is humming along.
We noted a Dow Theory sell signal triggered last summer as the late August market swoon sent the industrials crashing through their February lows. The industrials confirmed the move lower in the transports, telling us it was time to get cautious.
At the start of December, the transports broke lower again. And they continued to lead the market lower into January. In a little over a year this maligned sector had dropped nearly 30%.
You already know that the major averages have reversed off their February lows. As the major averages post new highs, the beaten down groups such as small-caps and transports are staging remarkable comebacks. These forgotten stocks are ripping higher virtually unnoticed, giving alert traders the opportunity to book fast gains.
Right now, transports haven't given us a long-term "buy" signal yet. That's OK—Dow Theory is a long-term signal that can be incredibly slow. By design, it's going to miss the first chunk of any major rally. But it would be foolish for us to ignore this rally. Several beaten down stocks and sectors have offered us monster trading opportunities recently as they snap back to life.
Sincerely,
Greg Guenthner
for The Daily Reckoning
P.S. Profit when laggards become leaders  — sign up for my Rude Awakening e-letter, for FREE, right here. Never miss another buy signal. Click here now to sign up for FREE.