Stocks Sell Off: Here's What You Need to Know
Volatility is back!
A summer of quiet trading is over. The stock market screamed to life on Friday after treading water for more than a month. The tight trading range that had trapped the major averages for weeks was snapped by a sharp move lower.
The Dow coughed up almost 400 points. The S&P 500 and Nasdaq dropped 2.5%. Commodities fell. Gold finished the day in the red. Gains were nowhere to be found…
September has been a downright terrible month for decades.  As we noted at the very beginning of the month, September has posted an average drop of more than 1% over the past century—the only month of the year that has averaged a loss. And Friday's big move lower doesn't look like it will be an isolated incident.
World markets continue to swoon this morning. S&P futures are falling to levels we haven't seen since right before the Brexit vote. The quiet trading we experienced in August has turned out to be the calm before the storm.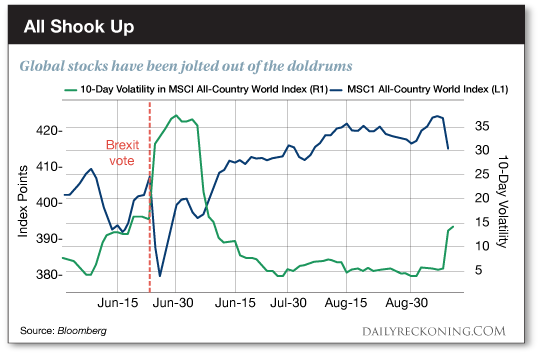 Investors are now worked up over the possibility of a rate hike. The financial media has already declared that the market moved sharply lower on Friday due to rate hike concerns. Prepare your eyes and ears for a deluge of rising rates chatter and speculation as we limp toward the September Fed meeting.
Of course, making guesses about interest rate policy isn't the best way to pull short-term gains out of the markets. If you want to trade, you have to stick to the facts.
Here's what we know—and what it might tell us as we head into a volatile trading week…
On Friday, market components moved lower together. No group of stocks was spared. Just two names in the S&P 500 moved higher by more than 1% on Friday: Wynn Resorts (NASDAQ:WYNN) and Met Life (NYSE:MET). Highly correlated markets mean there's nowhere to hide as stocks drop.
Turning to the charts, the S&P 500 has knifed below its 50-day moving average. That sets up potential support near its June/November highs. If these levels are broken, look out below…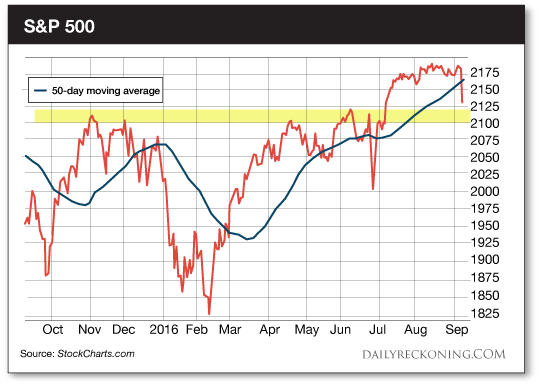 Finally, the stocks and sectors that were setting up for positive moves just a few days ago are now leading the market lower.
On Thursday, we showed you three potential trades that were outperforming the major averages are ready to blast higher. After Friday's rout, all three of these outperformers immediately went from leaders to laggards. Small-cap stocks, biotechs, and financials all led the market lower to finish up the trading week. That's not bullish action. Smaller, speculative stocks like biotechs can give us a good idea as to how much risk investors are willing to take. With the sector plummeting nearly 4% on Friday, it's safe to say that risk is abruptly "off" for the time being…
The most important thing you can do during this sudden market turmoil is to pay attention to the market's cues and obey your stop losses. There's no sense in hanging onto any trades that have triggered a sell just because they looked good last week.
Keep a close eye on your open positions as we enter a potentially volatile trading week…
Sincerely,
Greg Guenthner
for The Daily Reckoning
P.S. Make money in ANY market — sign up for my Rude Awakening e-letter, for FREE, right here. Never miss another buy signal. Click here now to sign up for FREE.