How to Keep Your Money (and Sanity) in This Crazy Market
The stock market's primary function is to relieve you of your money and sanity.
That's why a harrowing drop on Friday was followed by a face-ripping rally to start the new trading week.
On Friday, everyone lost. Every single asset class traded lower. But on Monday, you could throw darts and make money as stocks and commodities floated higher. Sixteen of my unauthorized Wells Fargo accounts even posted gains…
You should already know investing isn't supposed to be easy. If the stock market went up in a straight line and sent out Facebook notifications before it crashed, everyone would be rich.
Instead, we are treated to whipsaw moves bookending our weekends. Every trader in the game was looking for stocks to post some follow-through to the downside after a brutal nosedive last week. After all, that's what you would normally expect after a breakdown move: more downside action and a retest of key levels.
Maybe a 5% pullback that takes a couple of weeks to play out before heading higher. Or maybe we're treated to a deeper correction.
Not this time. At least not yet. The Fed has swooped in once again to calm the masses.
Frankly, I don't care what the Fed wants to do—they aren't raising rates next week. In fact, the chance of a rate hike plunged to 15% yesterday thanks in part to dovish comments from Fed Governor Lael Brainard.
The truth is the Fed watches the major averages like a hawk—and it won't do anything to upset the apple cart leading up to the November election.
What we're left with is a lot of noise. And thanks to newfound volatility, the noise is getting louder in both the markets and the financial media.
Our job is to slog through the mess to get to the really important stuff that actually matters to the market. With that in mind, here are a couple of critical chart patterns to keep an eye on as this crazy week continues:
1. A potential "V-bottom"
This market has become notorious for sharp moves off its pullback lows that traders are calling "V-bottoms".
We saw these patterns appear after the winter swoon and Brexit panic. Now we have to watch to see if we're in for another V-bottom after Monday's big recovery.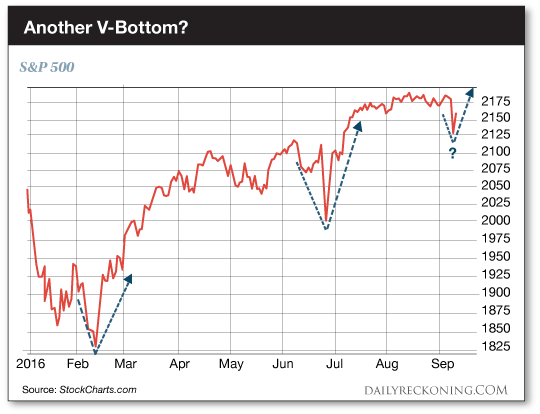 V-bottoms can be very frustrating for traders. The market slides lower only to trigger your stop losses, then rockets higher without you. Remember, we're always looking for the moves that can cause the most pain to the masses. Sometimes, it's the unexpected recoveries that hurt the most…
2. A bunch of "bullish engulfing candles"
One of the most impressive aspects of Monday's incredible rally was the number of bullish engulfing candles we saw throughout the markets.
A bullish engulfing pattern occurs when you get a lower opening price that finishes the day higher than the previous day's open. The candle that this move prints effectively "engulfs" the bearish candles that preceded it.
Moves like this show that the bulls have quickly gained control of a stock or sector. They were willing to buy low and continue buying throughout the day, pushing the stock back above critical levels.
Here's the bullish engulfing candle posted yesterday by Amgen Inc. (NASDAQ:AMGN):
With stocks looking to slip lower this morning, we're going to keep an eye on how stocks like AMGN respond. If they hold up under pressure, we should be able to put on some new trades…
Sincerely,
Greg Guenthner
for The Daily Reckoning
P.S. Make money in ANY market — sign up for my Rude Awakening e-letter, for FREE, right here. Never miss another buy signal. Click here now to sign up for FREE.