Can Speculative Stocks Save the Market?
This recent bout of volatility has inspired more than a handful of questions from concerned investors.
Will the Fed raise rates next week?
If not this month, what about December?
Will crude continue to slump?
What about gold?
Are stocks headed for an inevitable crash?
If you're asking questions like these, you aren't alone. In fact, most investors appear to be preparing for a much bigger drawdown in stocks.
But are they breaking out the bear suits a little early?
"A casual look at the volume of the iPath S&P 500 VIX Short-Term Futures ETN, which on Tuesday had its highest volume in history, should bring out your inner contrarian," notes Pension Partners portfolio manager Michael Gayed. "Can it really be the case that so many suddenly betting on volatility, en mass, are going to be right?"
While Gayed thinks the market is near its second big correction of the year, he doesn't believe this is it. Why?
Because of the positive movement under the surfaces of the market…
Yes, the major averages are lower. Sentiment is quickly swinging bearish. Folks are starting to bet against stocks. But every single stock and sector hasn't fallen off a cliff. In fact, we're seeing some positive developments starting to percolate.
Just look at biotechs.
We were just touting the iShares Nasdaq Biotech ETF (NASDAQ:IBB) late last week before the market started to drop. I noted that biotechs have been working on a new base for most of 2016 and they could be shaping up for a big end-of-year rally.
Remember, the iShares Nasdaq Biotechnology Index just endured a bear market that saw shares drop 40%. That's 12 months of terrifying downside action for any investor who decided to try and ride out the move. But IBB is holding on tight—even as the major averages slip lower this month.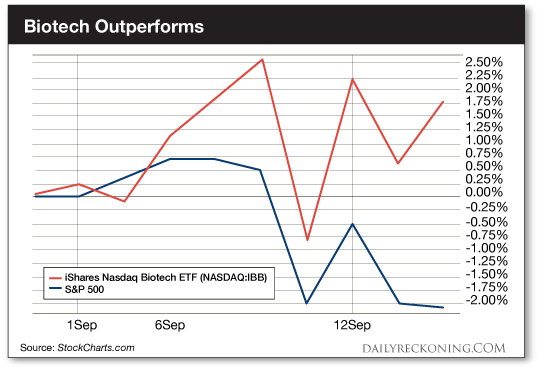 While the S&P 500 is down more than 2% so far this month, IBB is up nearly 1.8%. That's right—speculative biotechs are beating the market.
Biotechs aren't the only risky stocks that are holding up as the major averages continue to swoon. Just check out some of the year's hottest IPOs. These brand new stocks haven't completely fallen apart in September.
You probably recall two of the best performing new stocks of the summer: Acacia Communications (NASDAQ:ACIA) and Twilio Inc. (NYSE:TWLO). The last time we wrote to you about these stocks in late August, ACIA was up nearly 400% and TWLO had gained only 260% sine it hit the market in late June.
While these two high-fliers have cooled off this month, both stocks have avoided the meat grinder as the major averages dropped. In fact, TWLO continues to outperform the S&P 500 in September even though the stock is down so far this month.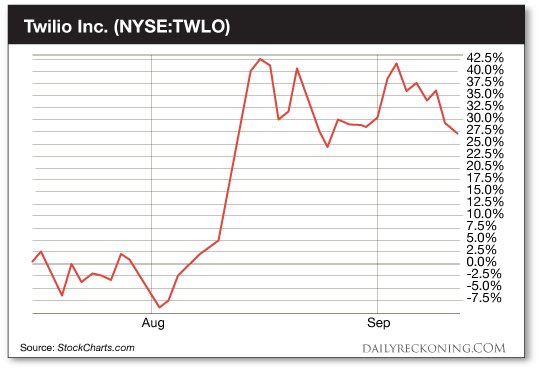 If the market was as vulnerable as folks say, I would expect new IPOs like ‪TWLO and ‪ACIA to look much, much worse than they do right now.
As we said earlier this week, the stock market's primary function is to relieve you of your money and sanity. While we could continue to see downside action from the major averages, plenty of positive moves under the surface are telling us that the situation isn't as dire as most investors believe.
It's not time to bet on a total collapse just yet…
Sincerely,
Greg Guenthner
for The Daily Reckoning
P.S. Make money in ANY market — sign up for my Rude Awakening e-letter, for FREE, right here. Never miss another buy signal. Click here now to sign up for FREE.