Grab This "Garbage Rally" Today
Rates are staying put.
Everything else is soaring.
I don't have to tell you that 2016 started off miserably. Back in January, we watched our favorite stocks and sectors bite the dust. The only thing we could do was get out of the way.
The market has a much different feel this morning. Investors are celebrating the Fed's decision to hold rates steady. There were no surprises—and no reasons for traders to run and hide.
Yesterday afternoon's buying frenzy into the bell has now set the stage for an end-of-year rally. It's time for our beloved momentum stocks to step up to the plate and knock us some dingers…
We've been monitoring these momentum stock rumblings ever since the market started pitching its mini-tantrum a few weeks ago. While most stocks took a beating, technology, biotech, small-caps and Chinese stocks showed relative strength. These are the names that are now leading us higher.
Even our favorite forgotten "garbage stocks" are getting in on the action. Some of these potentially powerful squeeze trades have served as one of the driving forces behind the market's big move back from the brink of destruction.
We're no strangers to pulling double-digits gains from the market's redheaded stepchildren. In fact, I alerted you to several lucrative garbage stock rallies earlier this year when they first started to pop up. While last year's big winners began cratering back in the winter, junk stocks were blasting off the launch pad. Stock market pariahs like Twitter and Groupon were rallying. The heavily shorted losers were finally getting their day in the sun.
Garbage stock comeback moves are custom built for short-term traders. That's why it pays to sift through the stocks that have been down on their luck for months. The ones showing signs of life could offer up the chance of fast double-digit gains in this market environment.
Your best hope at a trade will be among the names that once made folks a ton of dough—but have since died long, painful deaths. A new batch of these stocks is starting to wake up nearly every single day.
So what better industry to start with than 3D printers…
You might recall the 3D printing craze from a couple of years ago. If you've been around these parts long enough, you also know that we made more than a few profitable trades on these stocks, too.
2013 was an amazing year for 3D printer stocks. There was nothing this new technology couldn't do. The go-to trade was 3D Systems Corp. (NYSE:DDD) – which returned an impressive 140% in 2013. But by January 2014 the hype got out of hand. In reality, all we were getting was plastic junk from the consumer models. Then red-hot trade started to fizzle. As recently as June, you could pick up DDD stock for about $12 a share.
After a failed rally this spring, DDD is finally ready to rock. Just check out the chart: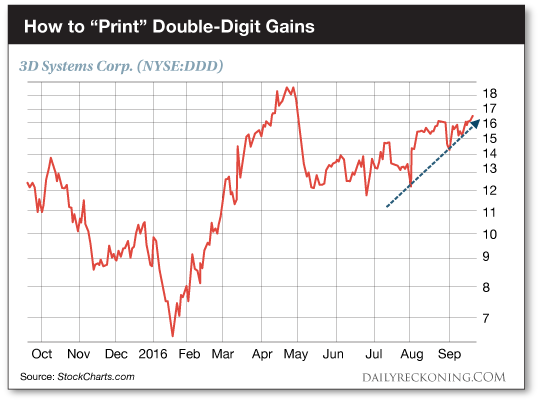 We were able to book gains of 20% in just five days during DDD's epic run-up off its January bottom. Now it's time to do it all over again. A quick move to just its April highs will put you in double-digit gains territory.
If DDD can grab its share of the upcoming momentum rally, we could see shares jump to 2016 highs in no time…
Sincerely,
Greg Guenthner
for The Daily Reckoning
P.S. Profit from battered down stocks — sign up for my Rude Awakening e-letter, for FREE, right here. Never miss another buy signal. Click here now to sign up for FREE.