One More Screw-Up and Your Data is GONE!
If you use Yahoo, chances are your email address, telephone number, date of birth, and password are now in the hands of a foreign hacker.
Yahoo management admitted yesterday that hackers stole 500 million accounts. Experts are saying this could be the largest cybersecurity breach of all time.
And it gets worse…
"The company said it believes a state-sponsored actor was behind the data breach, meaning an individual acting on behalf of a government," CNNMoney reports. "The breach is said to have occurred in late 2014."
So not only did this attack occur almost two years ago, but a government that has anything but pure intentions probably perpetrated the act. The best part is that Yahoo is now advising users to change their passwords and security questions—as if that will fix anything 24 months after the data was taken.
There's no way around it: the world has a major cybersecurity problem. And there are just a handful of public companies out there that can fix it.
"This is massive," cybersecurity expert Per Thorsheim told CNN. "It will cause ripples online for years to come."
Hackers are becoming savvier every single day. Consumers and corporations are more vulnerable than ever, especially the ones that are supposed to protect your money and sensitive personal information.
Large-scale identity theft cases are becoming all too common in the corporate world. Governments and private companies are now forced to play catch-up to protect people against the threat.
That's why cybersecurity will become one of the most lucrative plays of the decade. We've told you before that cybersecurity is set to become a $200 billion industry in just five years.
So if you haven't found a way to take advantage of this new megatrend, today's your chance.
The entire cybersecurity sector is producing impressive gains right now. If the rally continues at this rate, many of the hardest-hit firms will once again begin rewarding judicious traders.
You probably remember that cybersecurity stocks took a big hit as the market fell on its face earlier this year. In fact, many of the industry pure plays fell out of favor with investors ever since the stock market began losing steam last summer.
But after dropping double-digits to start the year, the PureFunds ISE Cybersecurity ETF (AMEX:HACK) has bottomed out and fought higher.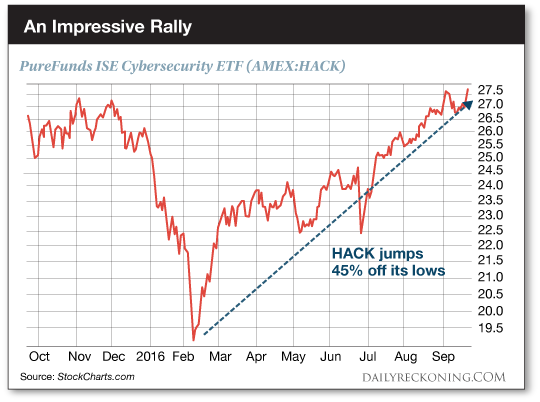 HACK is now 45% off its lows and pushing to new 52-week highs. That's an impressive recovery for a sector that was completely falling apart just nine months ago…
We should see HACK and its components sprint higher from here. This industry has the wind at its back and plenty of catalysts in the news to push it toward its 2015 highs in no time flat…
Sincerely,
Greg Guenthner
for The Daily Reckoning
P.S. Profit from battered down stocks — sign up for my Rude Awakening e-letter, for FREE, right here. Never miss another buy signal. Click here now to sign up for FREE.