How to Pocket 20% on the Market's Most Hated Trend
One of your most hated trades of the summer is up 20%.
It continues to defy critics as it leaps to new 52-week highs. By all accounts, this industry is in free-fall. In just a few short years, new and better technologies will squash whatever is left of it.
Yet it just keeps zooming higher…
Last week, we discussed how successful traders have to go against the grain. We know the so-called experts are going to initially pan our best trading ideas. That's how we know we're onto something good.
That's where today's trading lesson comes into play:
Your most profitable trades will materialize when price says one thing and everyone else says another.
Why? Because price leads the news. Most of your strongest trading opportunities are the quiet breakouts that everyone hates. But when all is said and done, you make money while the herd is stuck on an old narrative.
Here's how it works…
One of the most popular old narratives on the street right now is that the coal industry is dying. Thanks to waves of new regulations and a push for cleaner energy sources, coal is slowly going extinct.
Or is it?
In reality, coal prices are surging right now. And the VanEck Vectors Coal ETF (NYSE:KOL) is now up nearly 85% year-to-date.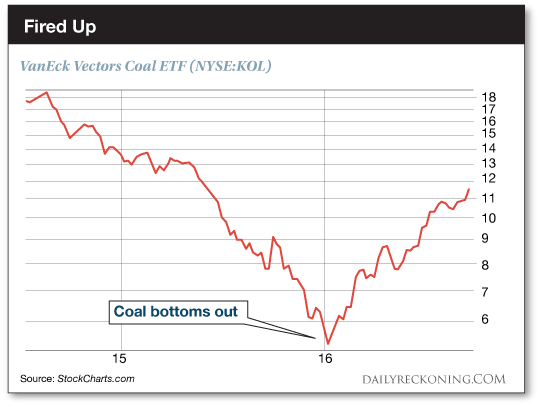 After years of lower prices, all the negative sentiment has finally caught up with the coal industry. Everyone turned their back on coal and left if for dead. But when the last trader shut off the lights back in January, something magical happened.
Just eight months later, coal is smack in the middle of a legit bull market.
And no one is paying attention…
"Lost in the sea of negative reports is the fact that premium hard coking coal prices have more than doubled in the past six weeks alone. But this short-term trend is just part of a larger story playing out in the coal space throughout this year," ETF Daily News reports. "The ongoing shale oil boom has pressured natural gas prices and made natgas a cheap alternative to coal. Additionally, new environmental regulations have forced coal-fired power plants to close, and many are being replaced with natural gas."
Don't get me wrong—coal is not an industry I would bet on long-term. In fact, it's not even consistently the top source of electrical power in the United States anymore. According to Uncle Sam, coal consumption in the U.S. declined more than 12% last year, while natural gas, petroleum and renewables all saw increases.
There are plenty of reasons to bet against coal. Too many, in fact. Coal stocks have gone nowhere but down for years. Prices started plunging and coal plants shuttered. Demand from China tanked. Since 2011, coal stocks have been locked in a nasty downtrend.
But this year's coal breakout changes everything. The coal sector has come back from the dead in 2016. After languishing for years, these stocks have finally put in a bottom.
Coal still has room to run higher from here. Coal is buried in negative news and investors just aren't paying attention to this dirty industry.
It's the perfect contrarian trade…
Sincerely,
Greg Guenthner
for The Daily Reckoning
P.S. Make money in ANY market — sign up for my Rude Awakening e-letter, for FREE, right here. Never miss another buy signal. Click here now to sign up for FREE.