The Squeeze is On: Hated Stocks are Heating Up
They just never learn…
Everyone's backing up the truck to bet big against stocks. Never mind that stocks are a breath from their all-time highs. Forget that speculative and forgotten "risk-on" sectors have pummeled the major averages. Folks are just downright bearish right now.
If the market continues to rally, we could be in for a massive short squeeze in the coming weeks. Once again, Wall Street doesn't have a clue. If they end up on the wrong side of the boat this time, a short covering rally could be the fuel the stock market needs for a powerful fourth quarter rally.
Earlier this year when the market was trying to get its sea legs back, squeeze trades had become one of the driving forces behind the big move back into the green. Short sellers were taking it on the chin as they pressed their bets.
To recap: anyone shorting a stock "borrows" that stock from a broker. And if the trade moves against them, they actually have to buy the stock to close out their position. That's why it's called a short squeeze. They literally get squeezed out of the trade. The selling is even more ferocious if their losses mount quickly.
What happens when all these short-sellers are forced to buy the stock? That drives its price even higher. The exact opposite of what the short-sellers intended. As a result, every dismal stock big money was betting against spiked higher.
To understand where we are now you have to remember back to the beginning of 2016. Everything in the markets changed when the calendar rolled over. Nothing worked anymore. Traders even tossed the big, popular stocks in the trash. The major averages took a quick trip to the dentist. Every single rotten tooth was pulled.
That's how we were stuck with the worst start to a calendar year in S&P history. Not six weeks into the year and the major averages found themselves gumming applesauce at the old folks home while pushing new lows.
Fast-forward to today and everything's different. The major averages have survived and the market is quietly pushing higher.
But the herd is slow to change its ways. Folks are still trading as if the world is a millisecond away from getting sucked into a black hole. This phenomenon has opened up some tremendous trading opportunities as speculative stocks push higher.
GoPro (NASDAQ:GPRO) is the perfect example. Here we have a stock no one would touch with a ten-foot pole since it started trending lower in late 2014. But shares have bottomed out and are beginning to move higher. Short sellers are pressing their bets. More than 30% of GoPro's available shares are sold short!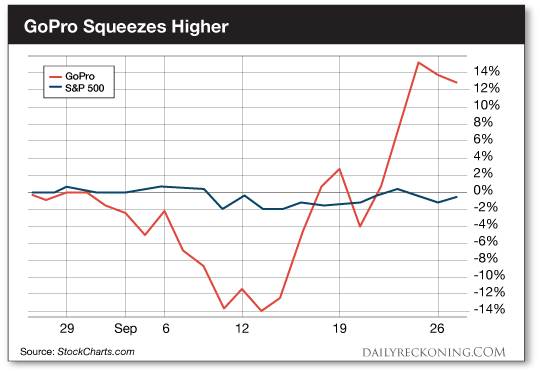 If GoPro shares continue to inch higher and outperform the averages, short sellers running for the exit could treat us to a squeeze of epic proportions. All we need is for the market to light the fuse.
We'll continue to squeeze profits out of this market like juice from an orange. Of course, this environment won't last forever. We have to stay on top of these squeezy stocks and grab onto these big moves while we can.
Sincerely,
Greg Guenthner
for The Daily Reckoning
P.S. Make money in ANY market — sign up for my Rude Awakening e-letter, for FREE, right here. Never miss another buy signal. Click here now to sign up for FREE.