How to Pocket $203,596 in 60 Seconds
In one internet minute, Amazon posts sales of $203,596.
That sounds like an insane amount of money to conjure up in just 60 seconds. But get this: according to data from Excelacom, Amazon's per-minute sales are up a whopping 70% since last year.
That's incredible growth from a company so large that it recently jumped ahead of Warren Buffett's Berkshire Hathaway to become one of the five largest companies in the world by market value.
But if you think the Amazon story stops there, you haven't been paying attention…
No, Amazon wasn't immune to the market turmoil we experienced earlier this year. The stock took a 30% hit to begin 2016. But it has rallied sharply since it bottomed out in February. While other retail names have struggled, the king of E-tail has staged an impressive comeback rally. The sky's the limit now that Amazon is back to posting new highs. In fact, we expect Amazon to regain its rightful place as the best damn growth stock in the world. Period.
The king of growth is hungry. And it won't rest until it has eaten every industry in its path.
Of course, you don't become the best without squashing the companies and industries that just can't hack it anymore. That's exactly what Amazon is doing. And the company has big plans to continue its path of disruption…
Its next victim? Delivery services.
You've probably seen Amazon's boxy while rental vans it uses to deliver Prime packages. These delivery vehicles are just a quick sneak-peek at what the company is planning.
"The initiative dubbed 'Consume the City' will eventually let Amazon 'haul and deliver' its own packages and those of other retailers and consumers," Ars Technica reports. "That delivery network would also directly compete with the likes of UPS and FedEx."
If I was running UPS or FedEx right now, I would immediately call an emergency meeting. After watching Amazon eat traditional retailers' lunch over the past decade, it's hard to imagine a scenario where the company doesn't completely gut the traditional delivery business.
You already know Amazon has decimated your local mall. Now the company is moving on to other retail niches most folks thought were completely out of reach for an online vendor.
I'm talking about apparel.
Most analysts thought Amazon would have trouble putting a dent in the fashion world. After all, shoppers like to browse clothing items and try them on. Who would want to do the majority of their clothing shopping online?
Everyone, apparently…
"Amazon is now the biggest seller of clothes online in the US, with its apparel sales totaling $16.3 billion last year," Business Insider reports. "That's more than the combined online sales of Macy's, Nordstrom, Kohl's, Gap, and Victoria's Secret parent L Brands in the same period."
According to Morgan Stanley, Amazon is now in second place to Walmart's apparel market share. That's an incredible leap for an industry that most experts thought Amazon would never crack.
You only have to glance at a chart to understand how Amazon has dominated the retail landscape over the past two years…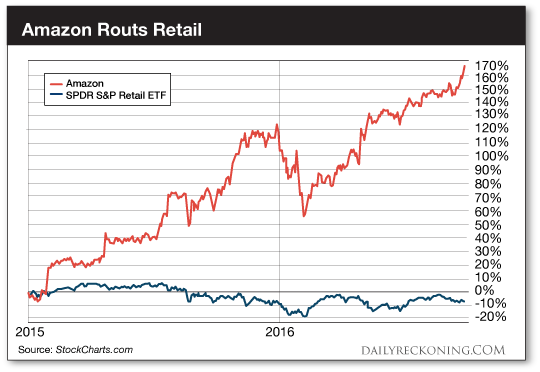 The retail sector has turned into a serial underperformer over the past 20 months. The sector is down almost 8% since the start of 2015, while Amazon stock is up nearly 170% over the same timeframe. It doesn't take a market wizard to see who's winning this war…
You're already up almost 40% on our Amazon trade that we initiated back in April. You should additional opportunities to add to your winning position as Amazon leads the market higher into the fourth quarter. More gains are on the way…
Sincerely,
Greg Guenthner
for The Daily Reckoning
P.S. Make money in ANY market — sign up for my Rude Awakening e-letter, for FREE, right here. Never miss another buy signal. Click here now to sign up for FREE.