How to Trade the Twitter Catastrophe
This bird has flown.
Silicon Valley gossip rags are blasting Twitter shares out of the sky this morning. The stock had earned a brief reprieve as eager speculators bid up shares as much as 75% off their summer lows.
But these buyout hungry investors are in for a rough morning as reality sets in…
Recode is reporting that all the major players aren't taking the Twitter bait. Google is out. Apple ain't interested. Disney considered a bid but won't be making an offer.
Even Salesforce is popping up as a potential buyer. But yesterday, CEO Marc Benioff told CNBC that while the company looks at everything, "we're going to pass on most things."
Sheesh. Even the also-rans want out of this race.
Are investors about to take a beating as takeover talks fall apart? It sure looks like it. Twitter stock is down more than 16% in premarket trade.
We marveled at Twitter's resilience back in the summer after the post-Brexit melt-up.
At the time, Twitter and the rest of the social media industry's stepchildren were clawing their way out of some grotesque downtrends. Many of these stocks had been nose-diving for months. Buyout hopes kept the dream alive.
Now, Twitter's uncertain fate could send shockwaves throughout social media purgatory. Also-rans like Yelp—another stock that's levitating on buyout hopes—could hit the skids if Twitter fails to receive a favorable takeover bid soon.
While it's nice to see investors rush back to bet on some of these riskier stocks, we have zero interest in trading rumors or potential news events. That's a great way to get burned (as Twitter gamblers are finding out this morning). When it comes to trading, we steer clear of the gossip and focus on the best stocks in any given industry.
When it comes to social media, that stock is Facebook (NASDAQ:FB). No contest. Even when the market forced us to ditch our Facebook trade earlier this year, we took another opportunity to pick up shares once the dust settled.
It's no secret that Twitter's business has been circling the drain while Facebook continues to build on its massive social media empire. But Facebook stock has lacked the excitement and volatility we've seen with Twitter. After all, it was Twitter's amazing bounce off its summer lows that lured in traders.  Back in July, Twitter shares were up more than 20% off their lows, while Facebook was up only about 1% over the same timeframe.
Despite the recent outperformance from Twitter, Facebook has been the steady gainer during a very difficult trading year. While Twitter has flopped around, Facebook has posted year-to-date gains of more than 22%.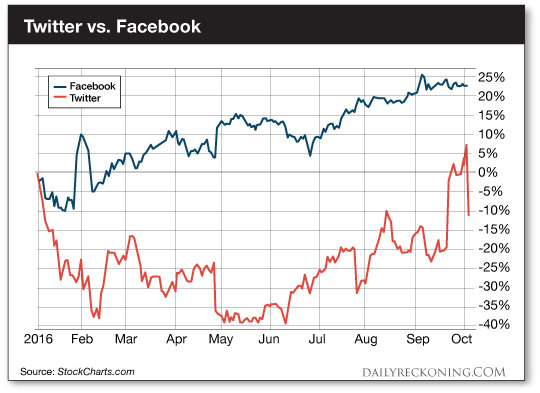 While Facebook has remained an investor favorite, second-tier social media stocks like Twitter have been desperate for table scraps to help prop up their flagging share prices.
Of course, we can't help the gamblers. They wanted excitement—and they got it! As speculators continue to lay out huge gambles in the social media space, I still think our best chance to book market-beating gains is with Facebook (NASDAQ:FB).
Sincerely,
Greg Guenthner
for The Daily Reckoning
P.S. Bet on the best — sign up for my Rude Awakening e-letter, for FREE, right here. Never miss another buy signal. Click here now to sign up for FREE.