3 Insanely Strong Sectors for a Choppy Market
Frustration is hovering near all-time highs as investors are forced to endure another choppy week for stocks.
The major averages have yet to break out or break down after a record-breaking summer lull. One of the quietest trading periods ever has devolved into another chop-fest. The major averages have widened their trading ranges. But they've made no progress in more than a month.
Despite the choppy action in the major averages, we've argued that the market is shifting to "risk-on" mode while most investors are cowering the corner. Our theory is based on the fact that investors are ditching safety plays like utilities and consumer staples stocks that were so popular earlier in the year. Even gold—the ultimate fear trade—is facing a harrowing breakdown this month.
On the flip side, leading stocks are acting healthy and the major averages are near their highs. But investors just don't care. They want nothing to do with this market. LPL Financial strategist Ryan Detrick notes that bearish and neutral readings in the American Association of Individual Investors poll have combined to average more than 72% this year. You have to go back 26 years to find the last time investors were that cautious, Detrick says.
The herd has a terrible track record when it comes to calling market tops. This time is probably no different.
With that in mind, we'll continue to stick to the strongest sectors on the market in our search for consistent, double-digit gains.
Here are three insanely strong sectors you need to watch this week:
1. Brokers Love the "Trader Churn"
False breakouts suck. There's no bigger headache on the market. Traders hate it when they have to immediately reverse course on a play due to a fake-out move.
But you know who loves a choppy market? Your broker.
The big online brokers don't care if you ever make a buck. But they do love it when you're buying and selling stocks at a furious pace. Every time a spooked investor hits the panic button and sells all of his stock, a broker gets his wings.
The Broker/Dealer Index has absolutely crushed the market over the past three months. It's up more than 18% over this timeframe, compared to a gain of just 2.6% in the S&P 500.
Stocks like TD Ameritrade (NASDAQ:AMTD) and E*Trade Financial Corp. (NASDAQ:ETFC) are leading the charge…
2. Banks Storm Back
Bank shareholders have it bad. They've suffered through countless scandals since the financial crisis first began more than eight years ago. Thanks to ZIRP, the entire financial sector has lagged the market since 2009. In fact, financials are the only major sector that has yet to regain its 2007 highs.
But bank stocks are starting to storm back. Just check out the S&P Bank ETF. It's up more than 15% over the past three months alone: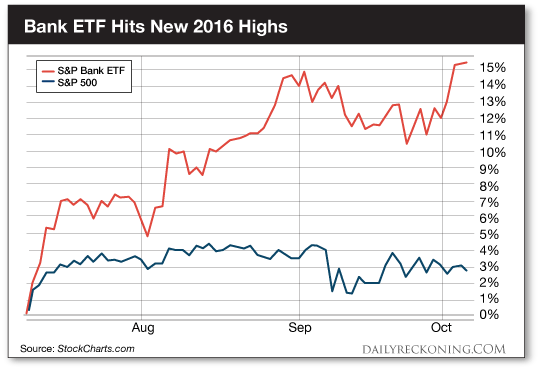 We all know record-low interest rates have punished banks. Believe it or not, central bankers are even starting to figure this out…
"The Bank of Japan a couple of weeks ago decided to focus on a steeper yield curve to help Japanese banks and insurers," John Murphy explains over at his Stockcharts.com blog. "The media is now reporting that some ECB governors are starting to rethink their negative rate policy because it's hurting European banks. With European banks down 20% this year, economists are beginning to think that negative rates have hurt bank profits. Imagine that."
Who'd a thunk it?
3. Semiconductors Soar
Semiconductors have slapped around the rest of the market since they fought off their lows and broke out to new 2016 highs all the way back in June.
Semiconductors were the ultimate snapback trade for a market melt-up—especially when you consider the sector's lagging performance leading up to its big breakout. Investors couldn't sell these names fast enough last summer. Semiconductors began badly lagging the broad market as soon as the second quarter kicked into gear.
That was a bearish sign for stocks. Why? Semiconductors have matured into an important economic barometer. And one year ago, the start of the big "semi slide" was the canary in the coal mine for the broad market's big leg lower that began just two months later.
After the semiconductor crash, these stocks stumbled along with major averages as they continued along their range-bound chop fest.
But this year, semiconductors have quickly snapped back to life. The sector took the lead from the S&P 500 back in May. After the Brexit bottom, it punched the gas.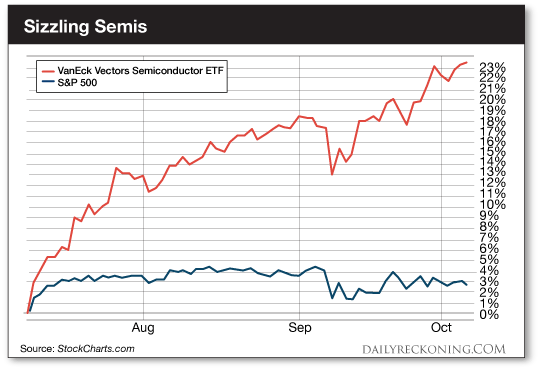 Semiconductors are now up a staggering 23% in only three months. That not just bullish for the tech sector—but the market as a whole.
Sincerely,
Greg Guenthner
for The Daily Reckoning
P.S. Profit from battered down stocks — sign up for my Rude Awakening e-letter, for FREE, right here. Never miss another buy signal. Click here now to sign up for FREE.