How Dirty Energy Defeated Tesla
Sick of the election soap opera?
Don't worry— the Wall Street gossip machine has you covered. If you've had enough "locker room talk" and watching the stock market sag, this high-profile spat will fill the void.
It also gives you a chance to book gains of 35% as soon as the market opens today.
Let me explain…
There's a battle raging between a dirty-energy heavyweight and Wall Street's favorite exec. Coal mining CEO and rabble-rouser Robert Murray popped up on the boob tube earlier this week to poke fun at Tesla Motors boss Elon Musk. In a nutshell, Murray is miffed because Tesla pockets taxpayer subsidies, yet doesn't make enough money, as far as he's concerned.
"Tesla is a fraud," Murray told CNBC. "They've gotten $2 billion from the taxpayer and has not made a penny yet in cash flow."
Murray also insists that we could close down every coal power plant in the U.S. and "you would not affect the temperature of the earth at all."
Them's fightin' words. So Elon took to Twitter to express his displeasure:
There's nothing quite like a little feud between two well-known CEOs—especially when it involves one of our more successful open trades.
I'm talking about coal.
Everyone knows the coal industry is dying (that's probably why Murray is feeling extra-feisty these days). Thanks to waves of new regulations, cheap natural gas, and a push for cleaner energy sources, coal's slowly going extinct.
Coal has endured a terrible bear market over the past few years. In fact, it's been one of the worst investments out there. One of the main reasons? Folks believe the government's been trying to kill it off in favor of greener alternative energy.
Of course, they're right. Obama's Environmental Protection Agency has said power plants must reduce their emissions of carbon dioxide 30% by 2030. It was a declaration of war on coal. And it was the last straw for investors. Coal plants shuttered. And demand from China tanked. Since 2011, coal stocks have gone nowhere but down.
Even though it continues to generate a significant portion of this country's energy, coal's definitely become one ugly investment. It's been downright impossible to make money off the stuff on the long side.
Until this year…
Out of nowhere, coal shares bottomed out back in the winter and started plowing higher. By the middle of the summer, a new bull market was in the works. That's when we decided to jump on the "dead cat bounce" for a trade. At the time, I said playing coal could net you gains of 50% or more over the next 12 months. We're well on our way…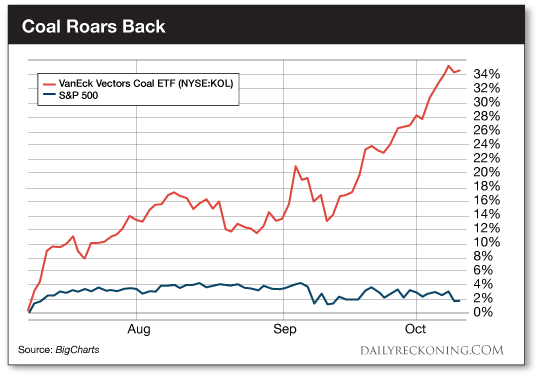 The coal sector has come roaring back from the dead in 2016. After languishing for years, these stocks have finally put in a bottom. The VanEck Vectors Coal ETF (NYSE:KOL) hit a low of $5.24 in January. It's trading over $12 this morning. Since we hopped on this play, KOL has jumped 35%. Tesla shares are down about 7% over the same timeframe.
This massive bounce in the coal sector does not mean we're about to enter a new dirty-energy utopia. Instead, what we have here is a dying group of stocks that are enjoying a massive oversold bounce after years of terrible performance. It also doesn't hurt that coal is getting some play in the election year political rhetoric.
We're going to take advantage of this recent strength and take some money off the table. But coal still probably has some room to run as a choppy market limps toward the end of the year…
Sincerely,
Greg Guenthner
for The Daily Reckoning
P.S. Continue to book coal-powered gains — sign up for my Rude Awakening e-letter, for FREE, right here. Never miss another buy signal. Click here now to sign up for FREE.