Before You Trade Trump, Read This…
"Aren't you excited for the first female president?" a reporter asked a little old lady in line at the polls yesterday.
"No!" she shrieked.
"I am," piped up her husband, who was standing just a few steps behind…
"Just tell me you're voting for Hillary and we can all go home…"
The baffled, patronizing face of a reporter who just can't seem to figure out why voters won't follow his narrative perfectly sums up last night's election. The polls told him Hillary would win in a landslide. The folks who sign his paycheck assured him a Clinton victory was in the bag. But then the damn voters just had to show up yesterday and ruin everything.
Why can't these cretins stick to the script we gave them?
The real-time media train wreck that unfolded last night was truly something to behold. First there was stunned silence. Then came the panicked, half-baked scenarios that would keep Clinton in the race. Wolf Blitzer went through at least eight pairs of underwear before the clock struck midnight.
Meanwhile, the stock market knew something was up before Wolf & Co. could pull their jaws from the studio floor. Futures began cratering a little after 9 p.m. as it became apparent that Florida would go to Trump.
Then the battleground states began to fall.
Futures cascaded lower until the Dow was off by a whopping 750 points. Both the major averages went limit down well before the election was even called last night.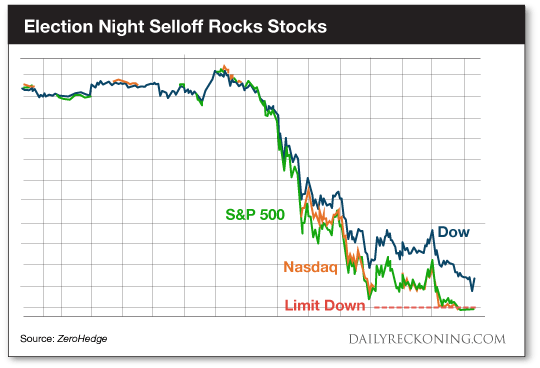 On the other hand, gold rallied hard. It gave back some of its overnight gains this morning—yet remains above $1,300 heading into the market open.
"Gold is having one of its heaviest trading days ever as investors rushed to havens on concern Trump's presidency will upend decades of U.S. economic and foreign policy. About 570,000 futures changed hands by 8:06 a.m. in New York, based on data using the most-active Comex contract," Bloomberg reports. "That's triple the full-day average this year and U.S. trading is just getting underway."
As we mentioned yesterday, the stock market loves the status quo. Every analyst under the sun assumed Mr. Market would rather have a democratic president who gives 5-figure speeches to Goldman Sachs executives than an outsider republican who rallies a populist base. And the initial reaction we saw last night in stocks follows this script.
But even this narrative is dying a quick death this morning…
"Will a Clinton presidency actually prove better for the economy than a Trump administration?" we mused yesterday. "That's anyone's guess. But right now it doesn't matter. Raw emotion is taking control. So go the fickle markets…"
The same emotions that fed last night's crash are fueling a morning rally. It's not even 9:30 a.m. on the East Coast and stocks are already emerging from the wreckage. After giving back all of 2016's gains late last night, the S&P 500 is off by a little more than 1% as I type.
Despite what everyone is telling us, a Trump win wasn't the biggest threat to stocks. It was the threat of an undecided outcome that really sank the markets. Now that folks are coming to grip with the results, the markets are already settling down.
We're going to closely monitor the stocks and sectors in play this morning—including a surprise biotech rally. As the dust clears, we should have the opportunity to dive back into some new trades later this week…
Sincerely,
Greg Guenthner
for The Daily Reckoning
P.S. Make money in ANY market — sign up for my Rude Awakening e-letter, for FREE, right here. Never miss another buy signal. Click here now to sign up for FREE.