Beans Blast Off: Here's How to Play the New Coffee Rally
Savor that morning cup of joe…
Higher prices are in store for your favorite morning brew.
But don't worry, you'll still be able to get your caffeine fix—especially if you know how to play this powerful new trend. In fact, disruptions in the market are setting up some lucrative trading opportunities for us. You just have to know how to play 'em…
Here's what's happening:
Coffee suppliers are having a pretty rough go of it this year. There are two main threats suppliers are facing right now…
In the short-term, 2016 has been a terrible year for growing coffee beans. Between droughts in South America and rains in Asia, growers just can't seem to catch a break.
All of this weather trouble may be much more than a seasonal problem. The ideal climate for growing coffee beans is in higher altitudes along the planet's equator. Temperate ranges of about 75 to 80 degrees…
This also happens to be an area experiencing a particularly sharp change in temperature right now. That's right— the real silver bullet for the coffee industry might be climate change (just don't tell that to The Donald).
Poor harvests, genetic engineering, and pests go hand in hand with rising temperatures. In short, rising temperatures lead to rising costs.
The weather isn't the only force at play in the coffee market. Demand is also shooting through the roof.
For this, we have those damn millennials to thank.
Young adults are contributing to coffee's sharp increase in consumption. They're also drinking coffee at earlier and earlier ages. Bloomberg reports that a whopping 44% of the world's coffee is consumed by millennials.
"Gains for demand mean that in the 12 months ended Sept. 30, world consumption outpaced production for a second straight season, according to the London-based International Coffee Organization," Bloomberg reports. "Coffee has posted the fifth-best return so far this year among the 22 raw materials tracked by Bloomberg Commodity Index."
The result?
The price of coffee beans has shot up by about 30% over the past six months due to weather difficulties in various growing regions and robust demand. That sets up a stellar trading opportunity for anyone paying attention.
Turning to a longer-term view of coffee, you can clearly see how the commodity has put in a beautiful rounding bottom over the past 20 months. Remember, coffee prices had suffered since they topped out in 2014. By the time the price of coffee came to rest earlier this year, it had been chopped in half…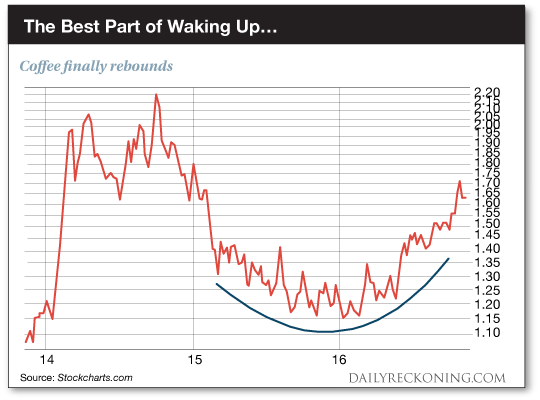 Now that coffee is moving in the right direction, you have a great shot at riding its next big spike to double-digit gains. Coffee is finally calming down after a posting a huge spike into early November. You can snag it here as it consolidates…
Sincerely,