The Fed and Dow 20,000 Plot a Collision Course
The Dow Jones Industrial Average tacked on another 114 points to close Tuesday trading at 19,911.
The big, round number is now staring us right in the face.
The feeding frenzy could happen as early as tomorrow as the Dow sneaks within reach of its highly anticipated 20K milestone. But now that the Big Board's climbing higher up the bean stalk, these 1,000 points moves just don't pack the same punch.
If you're the thrifty type, feel free to just dust off one of your old caps instead of buying a new one. With some minor alterations, you can squeeze a lot more mileage out of 'em:
Sure, Dow 20,000 makes a nice sound bite for the evening news. But when it comes to trading and investing, there's really not much more to say about it than we already have this week.
On the other hand, your old pals at the Federal Reserve might have something up their sleeve for you today…
That's right— higher rates are coming.
Most market watchers agree the Fed's going to pull the trigger and raise rates at today's meeting. In fact, it's not hard to see how a rate hike is already baked into the market right now—especially when you look at how far financials have come in just a few short weeks.
We could sit around today and try to figure out how a quarter-percent hike will affect Trump's presidency and the economy. But we have work to do. Sector rotation continues to dominate the trading landscape. And today, we have a shot at jumping back into a formerly red-hot group of stocks that have been stuck in stock market purgatory since the election.
I'm talking about tech stocks…
You're no stranger to Trump's tech train wreck. The election turned the stock market on its head. Forgotten sectors like industrials and financials caught fire and embarked on momentum runs we haven't seen from these stocks in years.
Meanwhile, investor favorites like Facebook and Netflix hit the skids. No one wanted to own these high-tech darlings.
We've been discussing this furious market rotation since the days immediately following the election. You'll recall the famous FANG foursome – Facebook, Amazon, Netflix, Google—has found itself at the forefront of most major market moves over the past 24 months. Without these four horsemen, the financial media assured us, the markets had no shot at a sustained rally.
By the end of election week, most major tech stocks were afloat in a sea of red. Apple, Google, Amazon and a slew of other mega-stocks had lost ground while most names on the market were screaming higher. Leadership abruptly shifted. If you didn't adapt, your trades languished.
But now that they've blown off some steam, it's time for a tech comeback…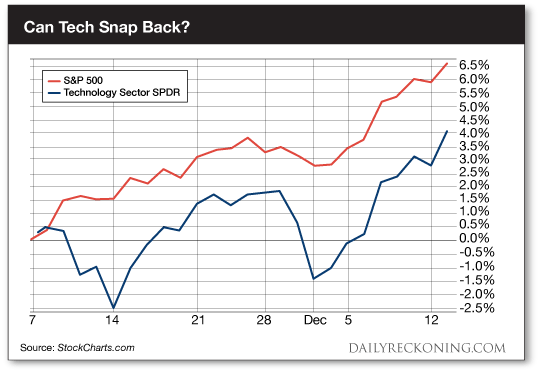 It's obvious the tech sector has lagged the major averages since the election. But that's quickly beginning to change. The Technology Sector SPDR outperformed the S&P by a country mile yesterday. These stocks are starting to play catch-up, giving you a shot at grabbing some shares of your favorite big tech name for an end-of-year rally…
Sincerely,